Dimensions-The Mathematics Society of Motilal Nehru College, Delhi University
Eligibility : Undergraduates, Post Graduates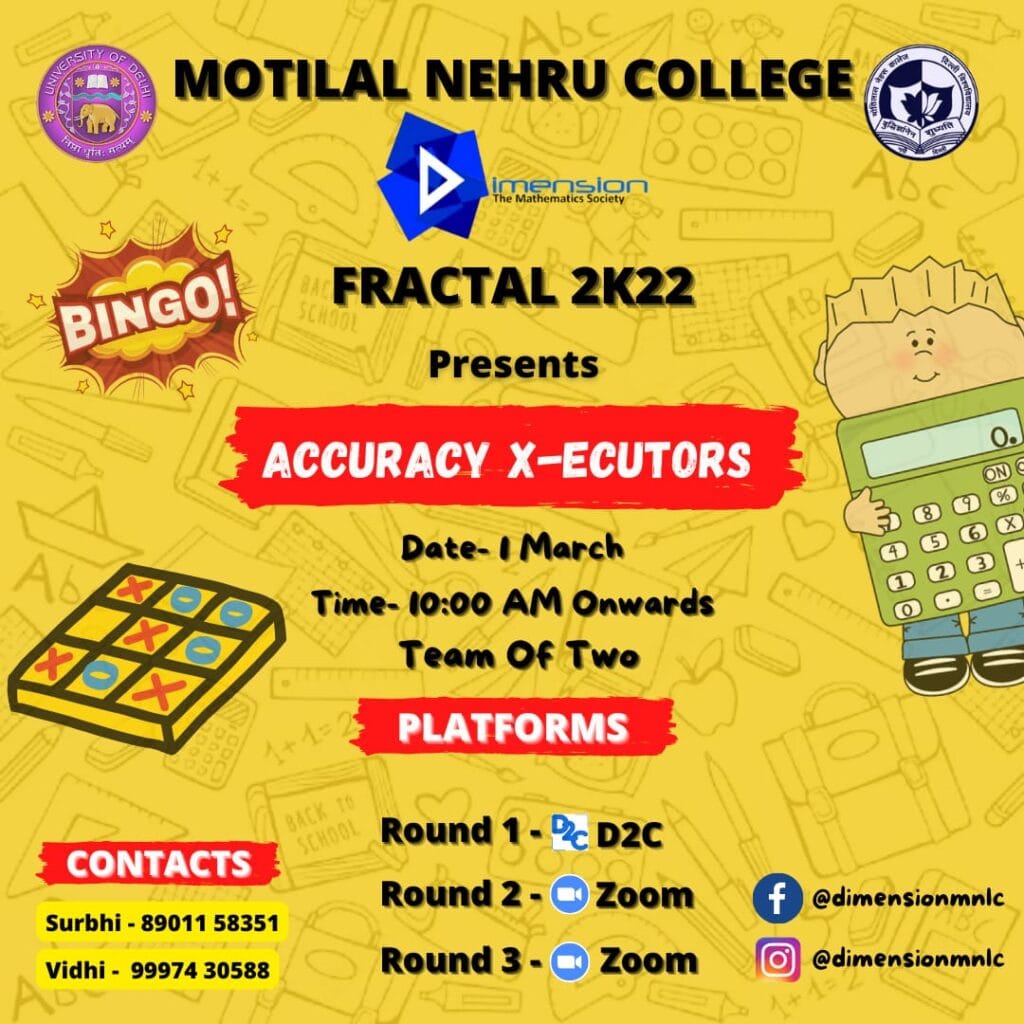 Hello Math π-rates! "You may be disappointed if you fail but you are doomed if you don't try".
So come try your hand on something from our quiz bowl and play with equations to win the race.
Are u exhilarated? Let's meet up! DIMENSION- The Mathematics Society of Motilal Nehru College presents the 2nd Event of their annual fest FRACTAL 2k22 "Accuracy X-Ecutors".Pull up your socks to test your arithmetic.
Round 1- Quiz 2 Conquer: To everyone who thinks maths is fun to solve and requires just a little amount of brain, we have an event to dive into it and get lost in solving the questions with us!
Round 2- X's & O's: An exciting battle: All of us have ever passed our time filling the last pages of our notebooks with X's and O's. So let us revive our memories of the game in the spirit of maths.
Round 3- Root to Bingo: "As I lay down to slumber, all I need is one more number, when to the next game I go, I pray the lord I yell bingo!" You all have played bingo in your childhood so get ready to play once again but this time with a little mathematics. So came and win both knowledge and exciting prizes
Date: 1st March 2022
Time: 10:30 am onwards
No. of participants: Team of two members
Guidelines for the competition:
A team of two members is allowed.
No registrations post deadline will be entertained.
The event will be conducted in three rounds-first round being eliminatory (you will face some brain-twisting maths riddles here), the second being preliminary (which will be Tic-Tac-Toe with a Twist) and the third being the final round (which is BINGO but with a maths twist).
The details regarding the second and third rounds will be further sent to the WhatsApp group that you'll be added to.
Only College students are allowed.
The decision of the moderators will be final and binding.  
Important: It is mandatory to keep the cameras on for the second and third rounds for the entire duration, so please ensure a steady internet connection.
Disobeying this rule for any reason will result in immediate disqualification.
Any use of outside help is strictly prohibited and if found cheating, the participants will be disqualified without any warning.
Please adhere to the above guidelines. Looking forward to hosting you all!
Participation Certificate
Surbhi
9588599598
Vidhi
99974 30588