Cyberbullying: Identify, Prevent, Respond
Cyberbullying: Identify, Prevent, Respond
Modern Youth International Model United Nations:MYI-MUN
Eligibility : Undergraduates, School Students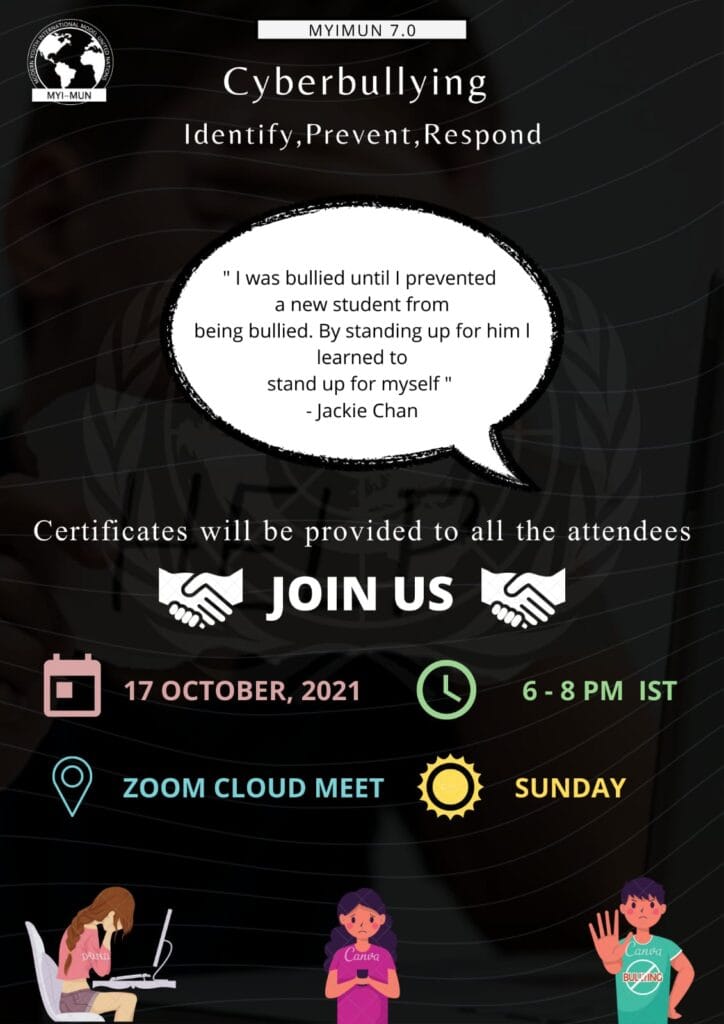 "I was bullied until I prevented a new student from
being bullied. By standing up for him I learned to
stand up for myself."
                                                                    ~ Jackie Chan
Greetings from MODERN YOUTH INTERNATIONAL MUN !!!
In this contemporary world infused with technology, modern age problems have grown. As a coin has two sides, so does technology today; one positive while the other one negative. To simplify, excessive abuse and hatred on social media have led to the birth of Cyberbullying, further instigating much harm to the physical and mental health of netizens.
Thus, we bring forth a workshop where all the attendees will learn about cyberbullying, how to prevent it
and how to respond to it immediately and appropriately.
So are you joining? Come on and join us!!
Details for the Workshop:-
Date: 17th October, 2021
Day: Sunday
Time: 6pm – 8pm IST
Platform: Zoom Cloud Meet
E-Certificate will be provided to all the attendees.
Merits of Attending MYIMUN's Workshops:- Expert Knowledge, International Participation Certificate, Renewed Motivation, Opportunities for Networking, Develop New Prowess, Fun & Informative Activities, Having Fun While Learning & Network with like-minded entrepreneurs.