Deem Dilemma | The Case Study Competition
Shaheed Sukhdev College of Business Studies
Date : 09-04-2022 to 18-04-2022
Eligibility : Undergraduates
Mode : Offline - Shaheed Sukhdev College of Business Studies, Rohini, Sector 16, PSP Area IV, New Delhi, Delhi 110089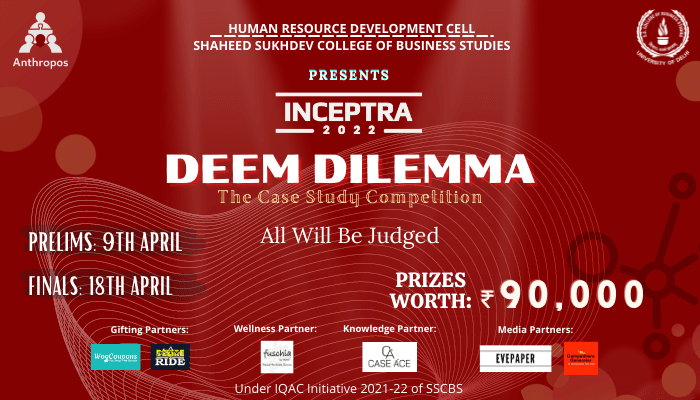 Online Preliminary Round
Quiz On D2C
An online quiz is to be conducted on the D2C platform. This round will consist of 20 questions from the field of Human Resources (HR).
09 Apr 22, 08:30 PM IST – 09 Apr 22, 10:30 PM IST
Case Submission Round
Shortlisted teams from round 1 will be provided with an HR-based case study. Participants should submit a presentation consisting of 10 slides including opening and thank you slides in PPT/PDF format. The top 6 teams will proceed toward the final on-campus round.
10 Apr 22, 12:00 PM IST – 14 Apr 22, 11:59 PM IST
On-Campus Case Presentation
The teams with the best solutions will be invited to the college to present their solutions in front of the esteemed panel of judges. This round will be conducted in an offline mode at college premises.
18 Apr 22, 12:00 PM IST – 18 Apr 22, 06:00 PM IST
In the competition, participants need to develop the best solution to a case in an allocated time frame. The sole aim of this case study competition is to develop managerial skills, problem-solving, teamwork and various professional ethics in participants. The case would be based on Human Resource (HR) domain.
The competition comprises three rounds:
The first preliminary round is a time-bounded quiz round where the teams will be tested on their general knowledge, aptitude and.
The shortlisted teams will have to submit solutions for HR based cases in the next round.
The selected teams will have to pitch their case solution in front of the judging panel in the final round out of which one would emerge as a winner.
Aman Kumar Pathak
7011945670