Deen Dayal Upadhyaya College
Team Size : Individual or 2 people
Mode : Offline - Room no. 423 of Deen Dayal Upadhyaya College, DU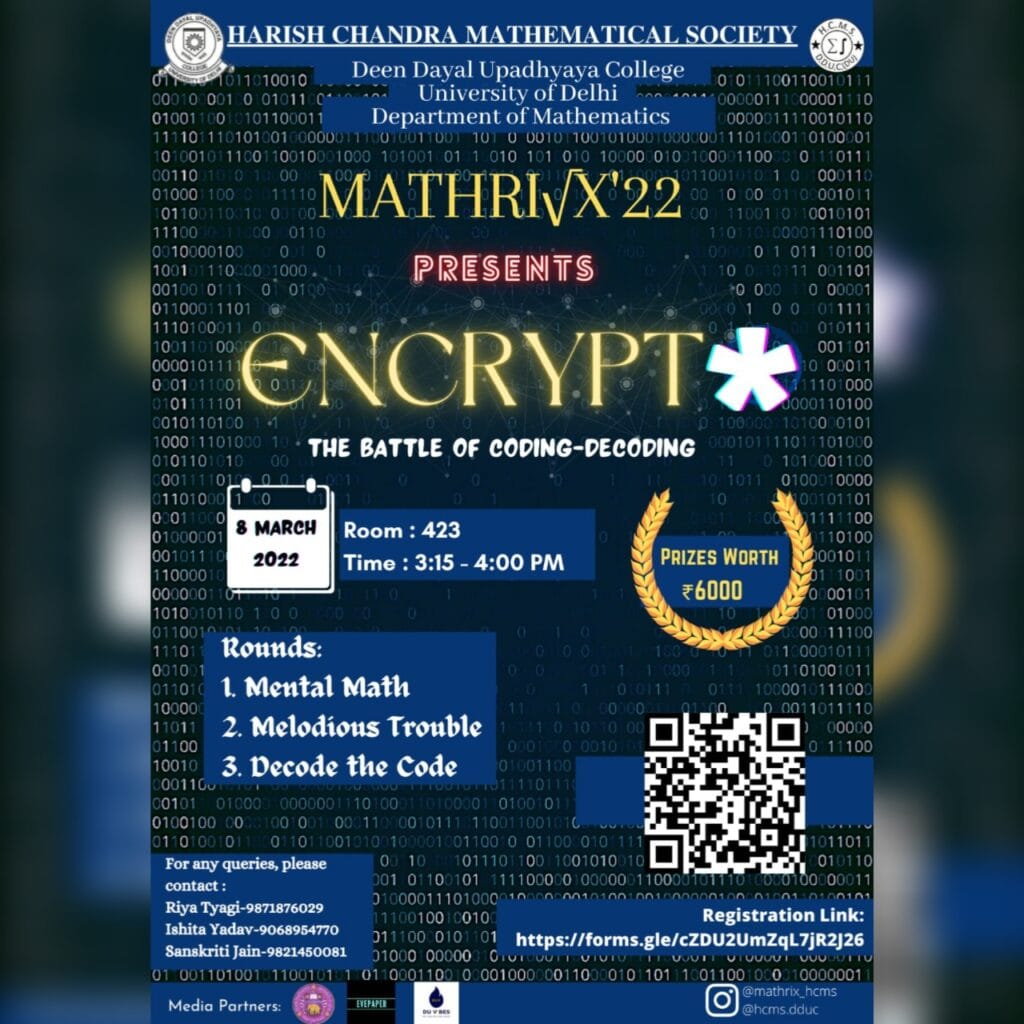 Excuse me Brother…Brother idhar _Harish Chandra Mathematics Society(HCMS),DDUC brings you its annual fest " *MATHRIX'22*" under which there will be exciting and joyful events which will thrill your mind._ It's all about speed and smartness.
Prepare yourself for overdose of excitement and fun. We present to you " *ENCRYPTO*" , a coding –decoding battle, an event where you unscramble the scrambled.
There will be 3 rounds:
Round I: *MENTAL MATHS* _You will be tested with a set of brain teasing questions to be solved in a very limited time._
Round II : *MELODIOUS TROUBLE* _Identify the tune in 30 seconds of the song that you have definitely heard but aren't that easy to recall._
Round III: *DECODE THE CODE* _Here comes our war winning round in which you will have to decode some easy-seeming yet real tricky codes within given time._
Terms and conditions to apply:_
~ Being a Homo sapien is a must
~ Must know the value of π (Both fractional and decimal upto 2 decimal places)
~ Must have suffered online classes
Participation Rules:_
● The Holmes – Watson Duo
● Lone Wolves
Prizes worth upto 6K So,tie up your seat belts and ride up to grab the opportunity to paticipate in ENCRYPTO . Hurry up! We will be waiting to see you all…….
Date :*8th March*
Time: *3.15 PM-4.00 PM*
Venue:*4th Floor, Room No.-423*
No more throwbacks to 2020 Swagat zaroor karenge aapka!