Dimensions-The Mathematics Society of Motilal Nehru College, Delhi University
Eligibility : Undergraduates, Post Graduates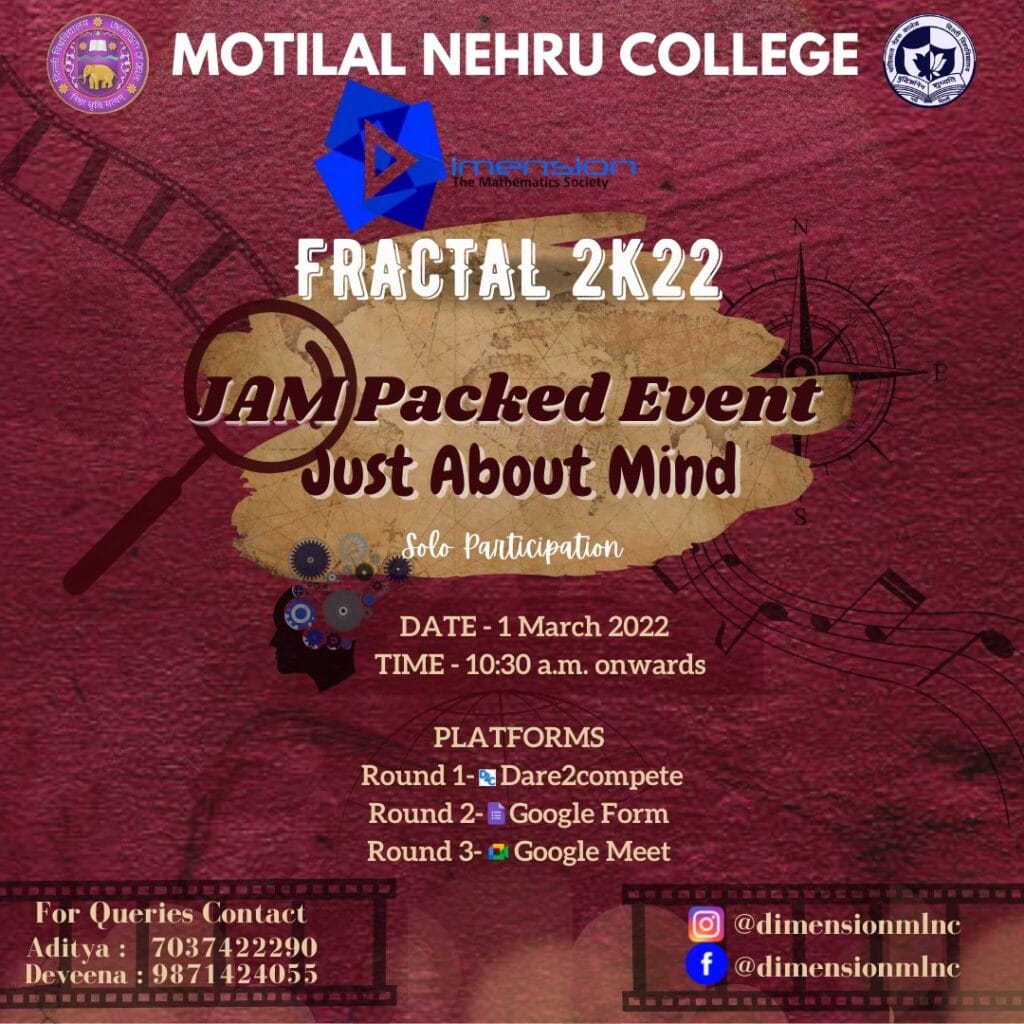 On JAM PACKED EVENT Just About Mind If guessing filmy personalities, weirdly written dialogues and lyrics, finding the treasures through spellbinding riddles is your forte, then this is the right platform for you. Come join us!
Round 1 : Film Frenzy Hola! Dimension welcomes you to the first round of JAM Packed Event !! JAM: JUST ABOUT MIND Have you ever intended to divulge the actual morph? If yes , then brace yourself for such conjectures and find how good you are at it ! This is the preliminary round , the participants have to guess the famous personalities from the entertainment industries of the world. We have added little twist to these image
Rules of this round :
There are 15 questions and only 1 option is correct out of the given 5 for each question
Each correct option will be awarded one point and there is no negative marking
Once the round begins,each team will get maximum 7 mins to fill the google form and submit their answers
In case of same score in the round, the time of submission will be taken into consideration
The results will be declared soon and the selected participants will be added to a new group for the next rounds
The decision taken by Dimension will be final and irrevocable
Round 2 : What'd you say? Congratulations for making it to this round Now things will start to get exciting Are you a curious peep? Were you that student, who loves to crack buffling lines ? Can't take your eyes off the screen when your favourite dialogue is rolling? If all this swings to 'yes' then we've got you covered!! So here's your time to decode the mumbo jumbo presented to you
 Let see how magical your mind can be
Rules for the round :
There will be 12 gibberish lines from the wonders of the entertainment industry
Each player will be scored out of 12 and there is no negative marking
You will be given 5 minutes to fill your answers
Once the timer is up, your answers will be submitted automatically
The decision taken by Dimension in the matter of authenticity shall be final and binding You will make your way further into the event only if you are among the top 5 players of this round.
Round 3 : Part-Time Dora the Explorer Hola Sapiens ! Have we not been in our houses for so long? Tired of commanding the attention in the same room? Spent sleepless night pondering over the same things ? Then this is your chance to showcase your talent and make us jaw drop! Your creativity is like a Scavengers Hunt . It's your obligation to pay attention to clues , to the things that give you that little tweak So let's bring out the inner Holmes in you and get ready to start this adventure
Rules for this round :
A series of clues will continue till the player reaches the end of the hunt
To solve every clue there will be a specific time allotted ( approx. 2 min ) 
Each player will find the clue and share the image on whatsapp to the assigned member within the given time
In case of a tie , there will be a tie breaker round
Participants need to join the Meet call with the prescribed naming convention and also 5 minutes prior to the event time given by the host
Participants are liable for any losses made due to connectivity issues. So you are advised to have a steady internet connectivity during this round
Cameras should be turned on during entire duration of the meeting. If found off , this will lead to immediate disqualification
No nuisance will be entertained at any time
The decision declared by Dimension will remain final and unchallenged at all times This round will be conducted on Google Meets , so please make sure the application is installed on your devices beforehand
Worth 75K cash prizes for winners
Aditya
7037422290
Deveena
9871424055