Learning Opportunities in the United States
Learning Opportunities in the United States
Placement and Career Development Cell, Ramanujan College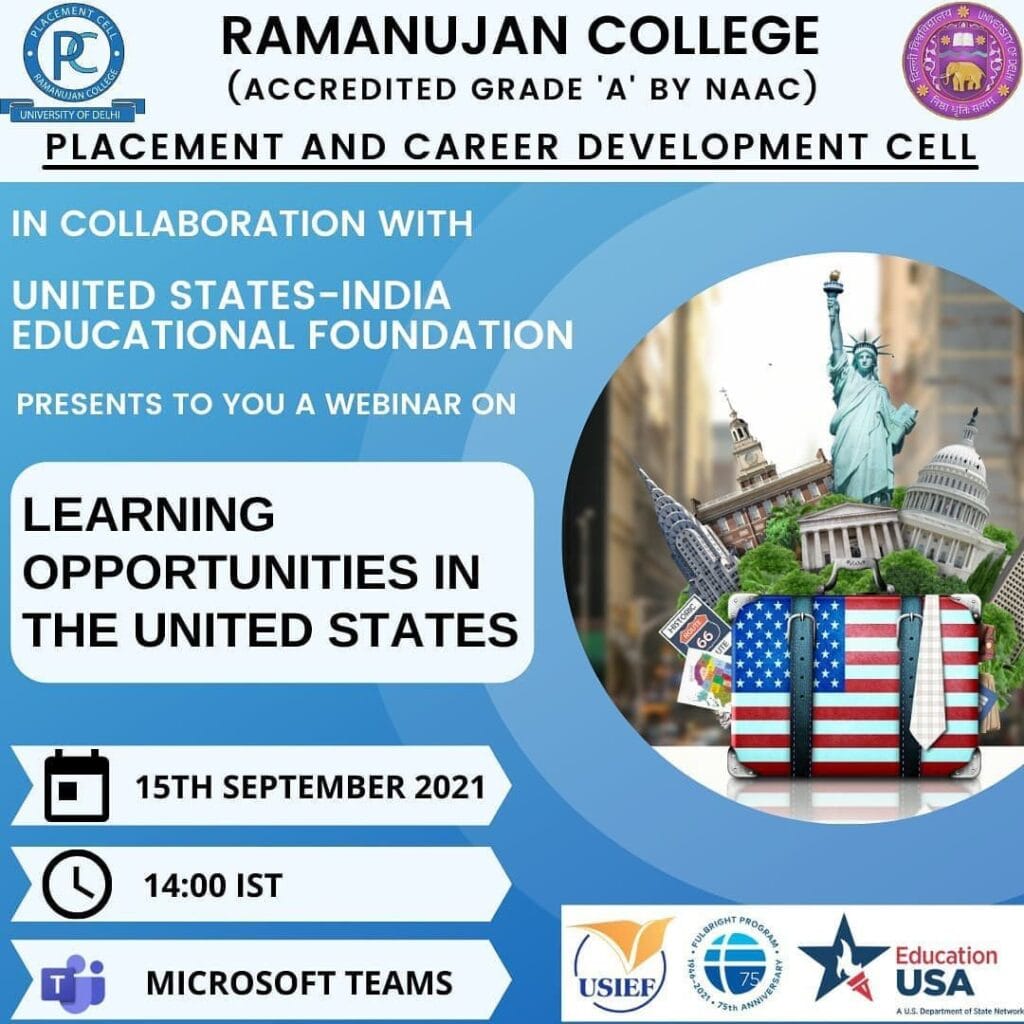 Most of the students at some point in their life have dreamed of studying abroad. Be it the cultural diversity, holistic development, advanced curriculum, the reasons are numerous.
However, one thing that stands between the students and their dreams is the financial pressure. The flight fares, tuition fees and not to mention the living expenses, can be pretty daunting right? Not anymore.
Ramanujan College, University of Delhi in Collaboration with the United States-India Education Foundation is conducting a webinar on 15th September on the topic of Studying in the USA made easy.
Talking about USIEF, The United States – India Educational Foundation (USIEF) promotes mutual understanding between the nationals of India and the U.S. through the educational exchange of outstanding scholars, professionals and students. Since its inception, USIEF has awarded approximately 20,000 Fulbright, Fulbright-Nehru, and other prestigious grants and scholarships in almost every academic discipline. More than 50% of the American universities offer some kind of scholarships but most students aren't able to avail them just because of the fact that they are not aware of them.
Hence in this session, we will talk about that how can you manage your expenses and with the right knowledge apply to all of your dream universities without having to worry about the finances. We will also talk about how to build your profile from scratch, what's to include and not include and what you should do further to enhance your current profile.
A Lot of students aim at doing research work alongside their studies but get so confused as to whether to do a part-time degree or a full time one. However, our experts will clear all these doubts by listing out all the pros and cons and which option is the best for you.  
The session will also have a QnA round so that all queries can be addressed and students have no doubt by the end of the session.