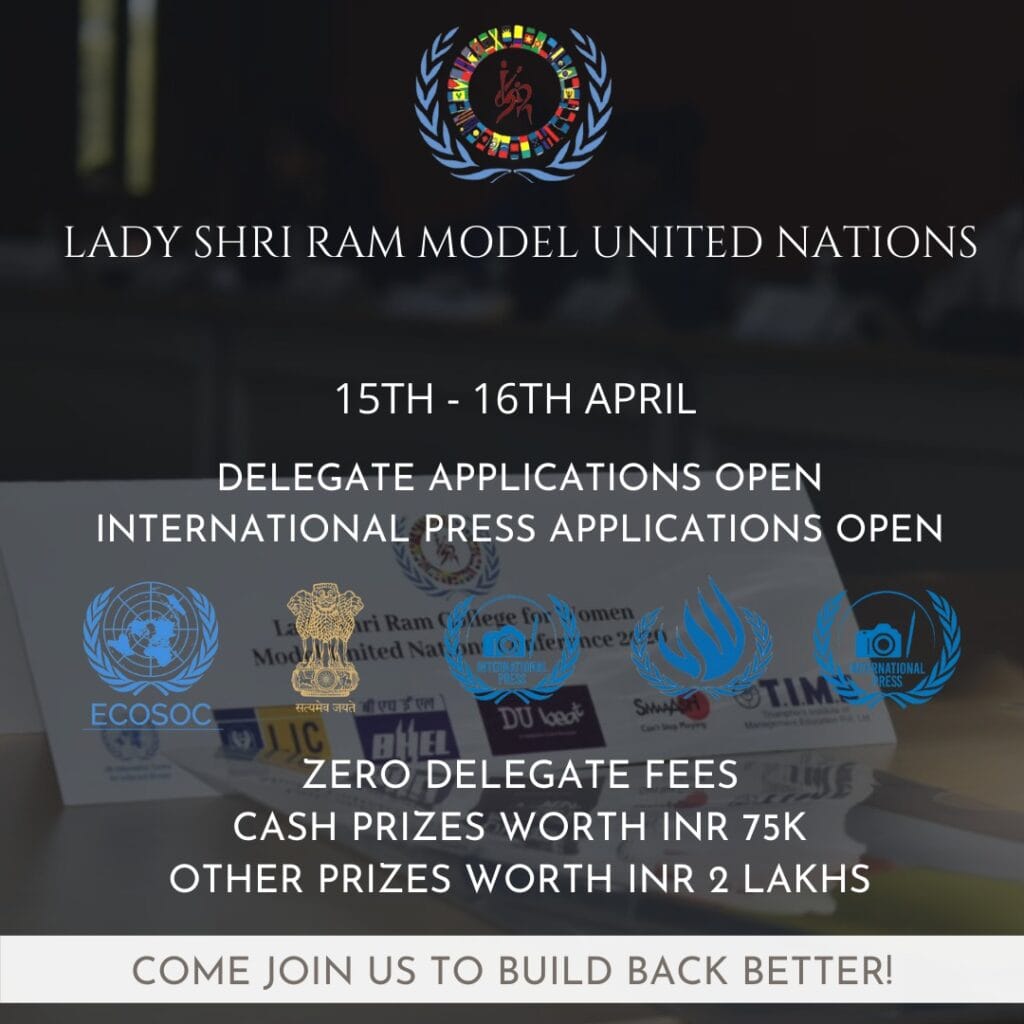 Greetings from the LSR MUN Society! Greetings from the LSR MUN Society!
We are delighted to open registrations for LSR MUN 2022. This year, LSR MUN is scheduled to be held on 15-16th of April,2022 in a virtual mode. The conference will be conducted in an online mode.
There is no delegate fees for the conference and participation is free of cost. We have cash prizes worth Rs. 75,000 and other prizes worth Rs. 1 Lakh.
Please find all relevant details about committees and agendas here:
1. The Economic and Social Council (ECOSOC)
Agenda: Discussing the role of sustainable finance for development with special emphasis on climate change.
2. The United Nations Human Rights Council (UNHRC)
Agenda: Protection of human rights in conflict regions with special emphasis on rights of refugees.
3. NITI Aayog
Agenda: Researching the impact of the COVID-19 pandemic on education in India.
4. United Nations General Assembly- The Disarmament and International Security Committee (DISEC)
Agenda - Effective International Agreement to assure non-nuclear weapon states against the use or threat of use of nuclear weapons.
5. International Press Corps : Hosting journalists and caricaturists from all over the country.
CASH PRIZES:
Best Delegate: Rs. 7,500
High Commendation: Rs. 5,000
Special Mention: Rs. 2,500
Please find the committee matrices here to indicate your portfolio preferences:
https://tinyurl.com/mpb8775f
Happy Applying!
For any queries, contact any of the following:
Under Secretaries General- Delegate Affairs
Alisha Varandani (she/her) - +91 6354133057
Aarushi Giri (she/her) - +91 7982150648
Reach out to us here:
[email protected]
Instagram:
https://www.instagram.com/lsrmunsociety/
Facebook:
https://www.facebook.com/lsrmun2020
LinkedIn:
https://www.linkedin.com/company/lsr-mun-society
अभिवादन!

लेडी श्री राम कॉलेज की मॉडल यूनाइटेड नेशंस सोसाइटी पूरे भारत के छात्रों के लिए एक साथ आने का एक अवसर है। यह छात्रों को उन विषयों पर बहस करने और चर्चा करने का अधिकार देता है जो समग्र रूप से वैश्विक समुदाय से संबंधित हैं। 10 वर्षों की विरासत को आगे बढ़ाते हुए, हम आपको एलएसआर एमयूएन 2022 में वर्चुअल मोड में 15-16 अप्रैल को आयोजित करने के लिए सम्मानित कर रहे हैं और अंतर्राष्ट्रीय प्रेस कोर के लिए आवेदनों का स्वागत कर रहे हैं।

वर्चुअल मोड में 15-16 अप्रैल को आयोजित होने वाले एल॰एस॰आर॰ एम॰यू॰एन॰ सम्मेलन के 8वें संस्करण में आपकी मेजबानी करते हुए हम सम्मानित महसूस करते हैं और अंतर्राष्ट्रीय प्रेस के लिए आवेदनों का स्वागत करते है।

अंतर्राष्ट्रीय प्रेस किसी भी एम॰यू॰एन॰ सम्मेलन का एक महत्वपूर्ण हिस्सा है, और हम इस गौरवपूर्ण परंपरा को नई ऊंचाइयों पर ले जाने की आशा करते है।

नक़द पुरस्कार
बेस्ट रिपोर्टर: रु. 4,000
बेस्ट कैरिक्युरिस्ट: रु. 4,000

अवर महासचिव- प्रतिनिधि कार्य

अलीशा वरंदानी (वह / उसकी) - +91 6354133057 आरुषि गिरी (वह / उसकी) - +91 7982150648
CASH PRIZES: Best Delegate: Rs. 7,500
High Commendation: Rs. 5,000
Special Mention: Rs. 2,500
Alisha Varandani (she/her)
+91 6354133057