Deen Dayal Upadhyaya College
Team Size : Individual or 2-3 people
Mode : Offline - Auditorium of Deen Dayal Upadhyaya College, DU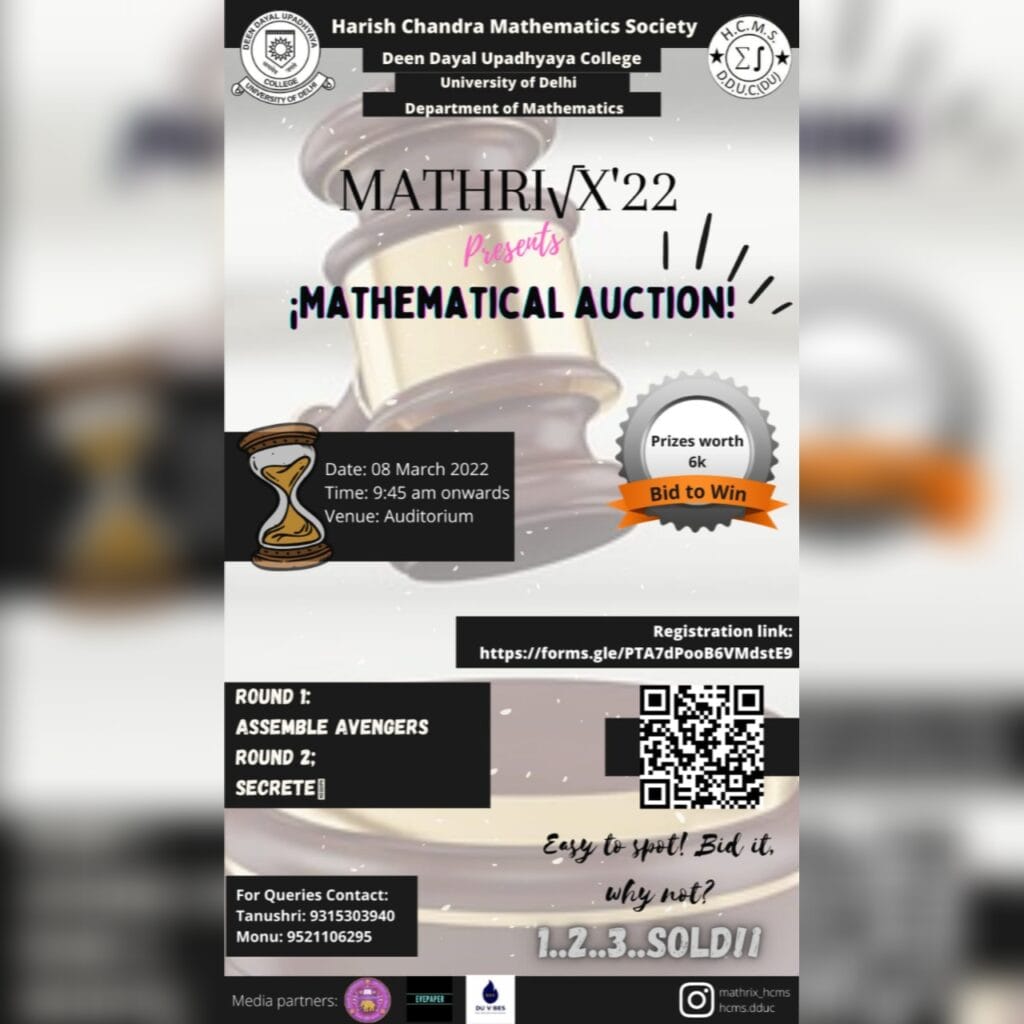 Are you that group always up for computing in a smart way? Do you always end up manipulating and saving your money in an effective manner? Do you think bidding is just your game!!? Are you dying to flex your finance skills and smartness?  Woah! Did we just hear a YESSS!!? So here we are! The Harish Chandra Mathematics Society of Deen Dayal Upadhyay College, bringing to you a platform where you can be the mastermind and showoff your skill through the most awaited annual cultural fest MATHRIX'22!! Sounds exciting????
So why not count your presence to our event Mathematics is not only about numbers,equations or algorithms. Its about knowing and computing things in a fun filled way.
So why not make it a little more exciting? Here we present to you, Mathematical Auction (A game that will make your mind run) Let's take you to the agenda, shall we?
There will be rounds. 
Round 1 will make your adrenaline rush to comprise of the most powerful team of superheroes from the given Avengers and DC characters.
Round 2 is gonna be a secret for our best bidders of round 1.
So are we ready to save the world? And ready for the surprise reveal?? If you got chills reading this.. don't waste another second!! HURRY UP! Limited Seats Available!! REGISTER NOW ON
Rules and regulations
(1) Rules follow in the attached image.
(2) Having lotssss of fun is mandatory
Participate and win EXCITING PRIZES and certificates Wishing you all the luck and hoping to see you all Bid, win and have a grin!