ChemCrown : Chemistry Society of ARSD College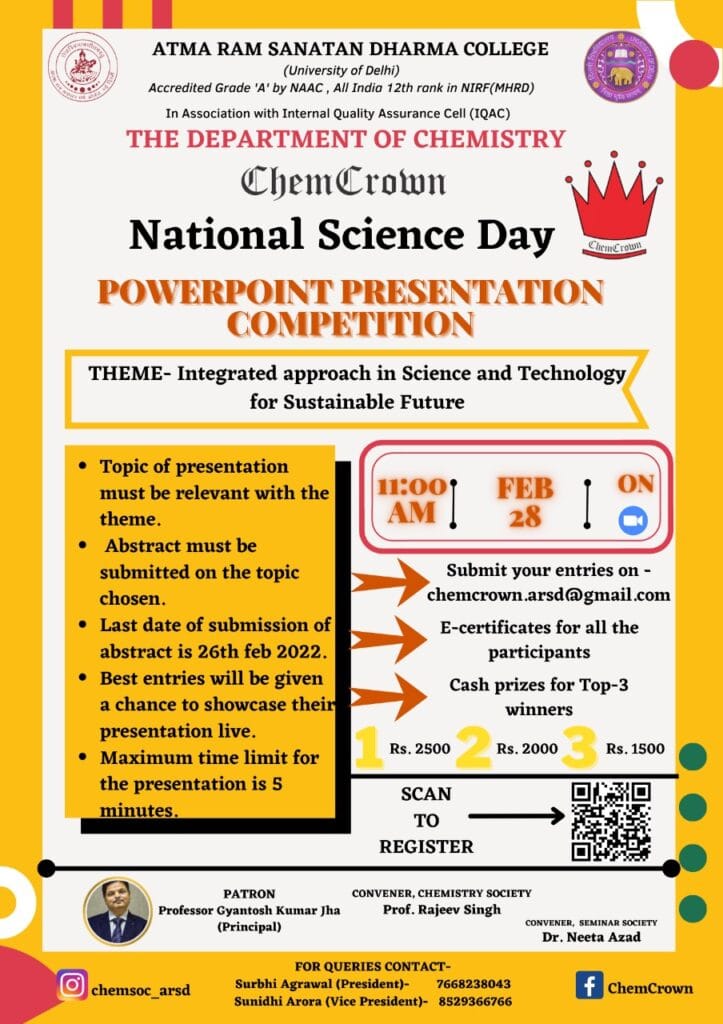 Invitation The Chemistry Society of Atma Ram Sanatan Dharma College, University of Delhi celebrates National Science Day and cordially invites you to ChemCrown: Talk Of Eminence -Series2022 on 28th Feb 2022
The Keynote Speaker for the Series of Eminence is *Dr. Kumar Krishen* , Chief Technologist, *Senior Scientist, NASA* Exceptional Service Medal Recipient, Professor at University of Houston,USA.
*Topic – On understanding the universe: "Why are we here? How are we here?* *PowerPoint Presentation Competition*
Theme: Integrated Approach in Science & Technology for Sustainable Future.
Guidelines for participation:
Topic of presentation must be relevant to theme.
Abstract must be submitted on the topic chosen
Last date of submission of abstract is 26 February 2022.
Best entries will be given a chance to showcase their presentation live.
Maximum time limit for the presentation is 5 minutes
 E- certificates will be provided to all live attendees of the programme.
 Registration is mandatory to attend the program
Exciting Cash prizes for the winners.
Don't miss out on this amazing Universe talk and the competition Regards Team ChemCrown
Cash Prize for the Winners
Participation Certificate