College Of Vocational Studies
INSPIRIX THE HRD Cell Of CVS
Date : 04-04-2022 to 05-04-2022
Mode : Offline - College Of Vocational Studies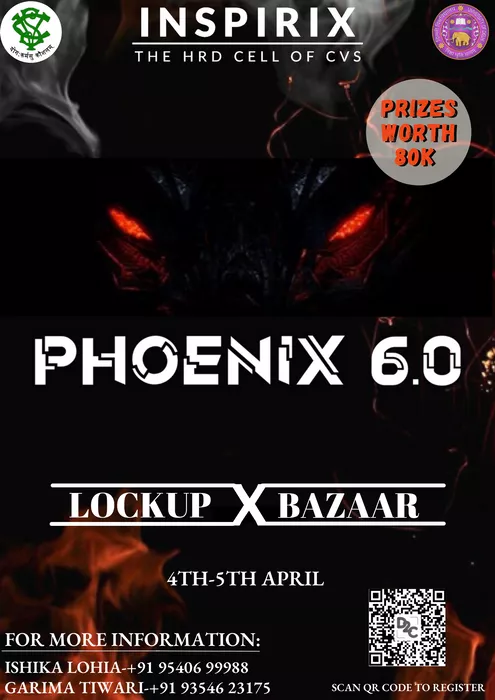 Today, I'm only addressing seemingly intelligent people
HEY!!
YOU, YESS YOU!!
Are you good at being creative on the spot?
Kya aapko bhi HR mein interest hai??
Kya aapke toothpaste mein talent Dene ki power hai??
What are you waiting for then‍️! INSPIRIX- The HRD Cell Of CVS is back with yet another year of PHOENIX 6.0 Ahan!!
You heard it right!!
Who doesn't like mystery?
We Do yeah!  Got some Sherlock skills‍️ to escape the mysterious room? 
You suit well for "LOCKUP"
DETAILS ABOUT LOCKUP:
It will be divided into 3 parts i.e. 3 levels that the participants have to qualify, there will also be elimination after every round. 
There are going to be 10 teams in total. The number of members in each team will depend on the number of participants interested.
Level 1 is basically an escape room in which everyone would be locked inside a room and they would have to find a way to escape that room. There are going to be three steps to escape this room. There will be a box with a lock on it and the code to that lock that has to be found.
In the Level 2, qualifying participants  have to find stuff and clues to get to the final round by decoding riddles to get to the right location!
The Final round will test your HR knowledge along with your problem solving skills. You will have to solve the case study to win this last challenge.
Rules and regulations-
External assistance is not permitted. They can only rely on their teammates for assistance.
No extensions will be given if the allocated task is not performed within the specified time frame. No late submissions will be accepted.
Any team that engages in unethical behaviour, such as obtaining outside assistance or using their items, will be disqualified.
Alsoo!! Go grab some bargaining tips from your moms!! 
WHY? 
See you at "BAZAAR"
DETAILS ABOUT BAZAAR:
This event will be based on the barter system through which members will be given resources and they have to plan and strategize how to utilise it effectively. This will be related to different countries creating products with the resources provided to them, which are incomplete.
This fun learning event will test our resourcefulness and make the most of our
minds and artistic sensibilities.Presence of mind, creativity, communication and fun will be our greatest assets to
victory/win.
The THEME of the event is: Negotiation.The event will have 4 rounds where they have to do the task which is allocated by us.
Based on participation we'll be dividing the team giving them names of the
respected countries. Each country will be allotted 4 resources. After each country receives its resources, the first round will begin continuing the other three. In the given time they can make as many products as possible.
After the end of each round, all the countries will be selling their products. To the bank (us) we'll be paying them for that.
Winning Criteria will be based on the country which has the maximum money
Timings for each round:
1st round – 7 Mins
2nd Round – 10 Mins
3rd Round – 15 Mins
4th Round – 17 Mins 
Rules and regulations-
Every team will get ONLY 3 resources.
Once a team gets its allotted resources, they can't change it.
Once the team is allotted, members can't be changed.
They cannot use or bring their personal belongings.
Taking external help is not allowed. They can take help only from their
teammates.
The assigned task has to be completed within the specified time and no
extension will be granted. Late submission will not be entertained.
If any team will use any unfair means, i.e taking external help or using their
items, then that particular team will be disqualified.
You never know!!‍️
Kyoki picture abhi baaki hai mere dost!
So,It's time to ignite the fire of creativity!!
In our mind dazzling event!!
I am sure it's worth sparing some time!!
Make sure to register yourself at:
Date–4th April 2022
Venue–College of Vocational Studies
Time–10:30am
Would be waiting to see y'all there!!
KYUKI ASLI MAZA SABH K SAATH ATA HAII!! 
For any queries, feel free to contact:
Ishika Lohia 
95406 99988
(PRESIDENT)
REGARDS,
TEAM INSPIRIX