Date : 20-03-2022 to 25-03-2022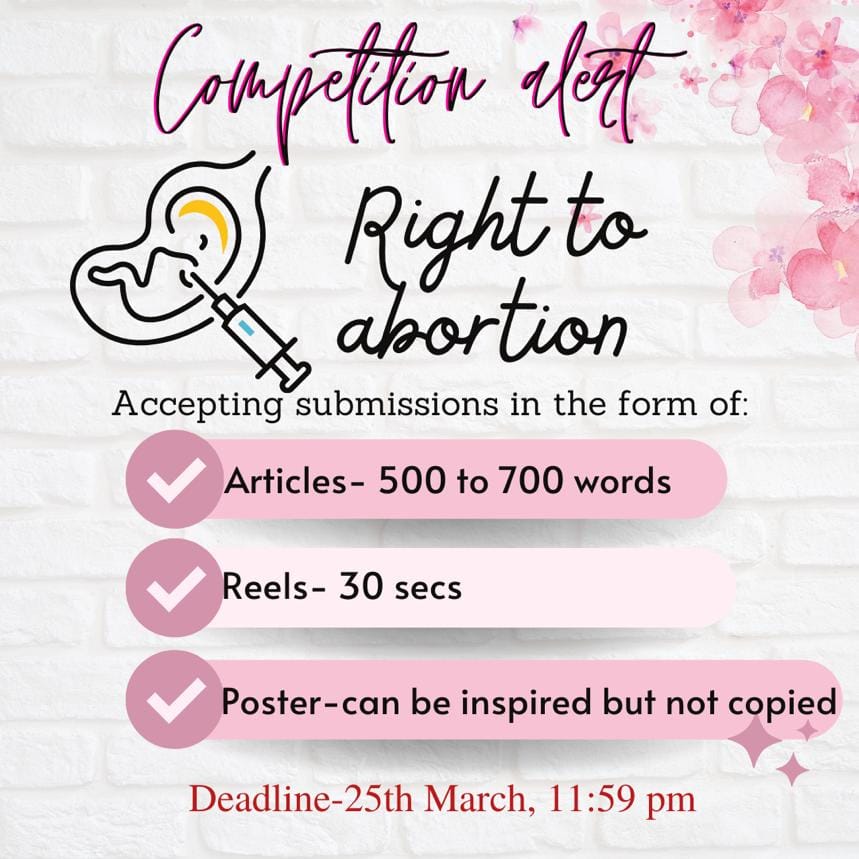 Greetings from Pink Legal Naaz!
"Around 73 million induced abortions take place worldwide each year. Six out of 10 (61%) of all unintended pregnancies, and 3 out of 10 (29%) of all pregnancies, end in induced abortion." (Source: WHO)
An article by Times of India notes that despite almost 50 years of the incorporation of the MTP act and the vindication of women's right to abort, abortion still remains a hotly debated issue and much of a taboo in India. This is an age old law which probably is the most liberal in the world. Unfortunately, it does not seem to be of much help when it comes to protecting women's rights. Why should this right of women get compromised? What could be the necessary measures taken to protect this right? How does it impact the oppressor and the victim? This is your ground to speak and enlighten people around you! Hence, we present to you the much-debated topic for this month's competition: "Right to Abortion".
We urge you to participate in huge numbers and express your notions on this subject. Let us know all about what you think and believe! All kinds of views are welcome, and together we shall learn and unlearn a lot! You are free to send in your entries in the form of articles, reels, posters . 
Please send your entries to [email protected] The deadline for the entries is 25th March, 2022 11:59 PM. We are looking forward to your submissions!