SLAM POETRY- Different Flowers Make a Bouquet
Daulat Ram College, University Of Delhi
Eligibility : Undergraduates
Mode : Offline - Daulat Ram College, University Of Delhi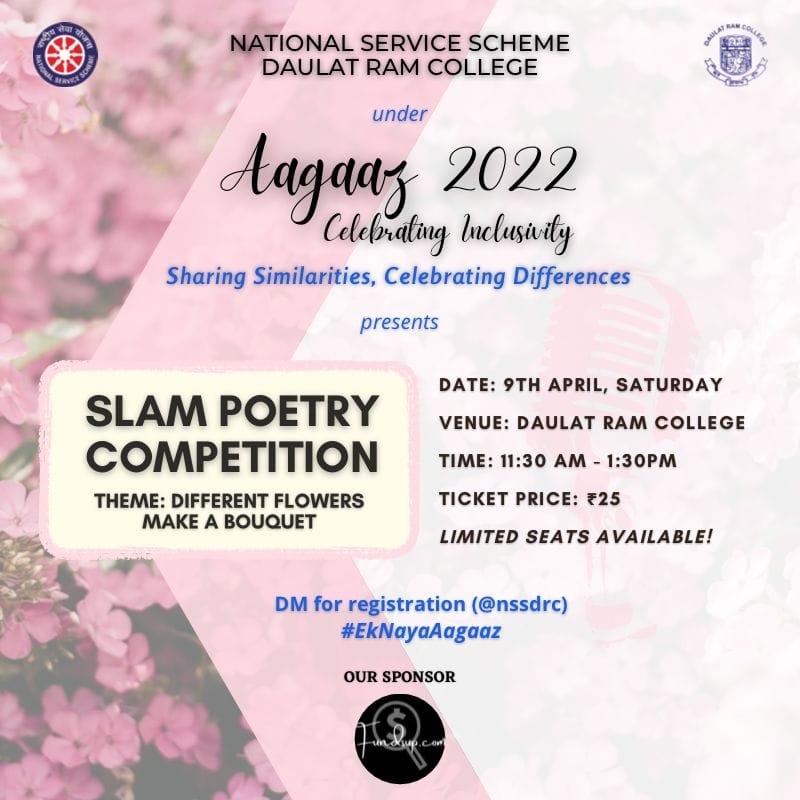 The National Service Scheme unit of Daulat Ram College is organising a Slam Poetry Competition, for our annual social fest, Aagaaz 2022.

Details for the same are as follows:
Date: 9th April, 2022
Time: 11:30 AM to 1:30 PM
Venue: Daulat Ram College
Theme: Different Flowers Make a Bouquet

PLEASE READ THE FOLLOWING INSTRUCTIONS CAREFULLY:
• The time limit for poetry presentation is 3 minutes.
• The poem can be presented in either Hindi or English.
• The registration fee is INR 25.
• Interested students are requested to make the fee payment by scanning the QR code in the form.
• Registration will only be confirmed once the form has been filled and the necessary payment has been made.
• Kindly attach a screenshot of the payment in the registration form as proof of the same.

NOTE:
• Certificates will be provided to all participants.
• Registered participants will be added to a WhatsApp group chat, where further information will be shared with them directly.

PayTM Number: 9971788036
Kindly take a screenshot of the payment and submit it in the form.
Participation Certificate
Shambhavi Singh
7678606581