Logos - The English Literary Society of JDMC
Date : 14-03-2022 to 16-03-2022
Eligibility : Undergraduates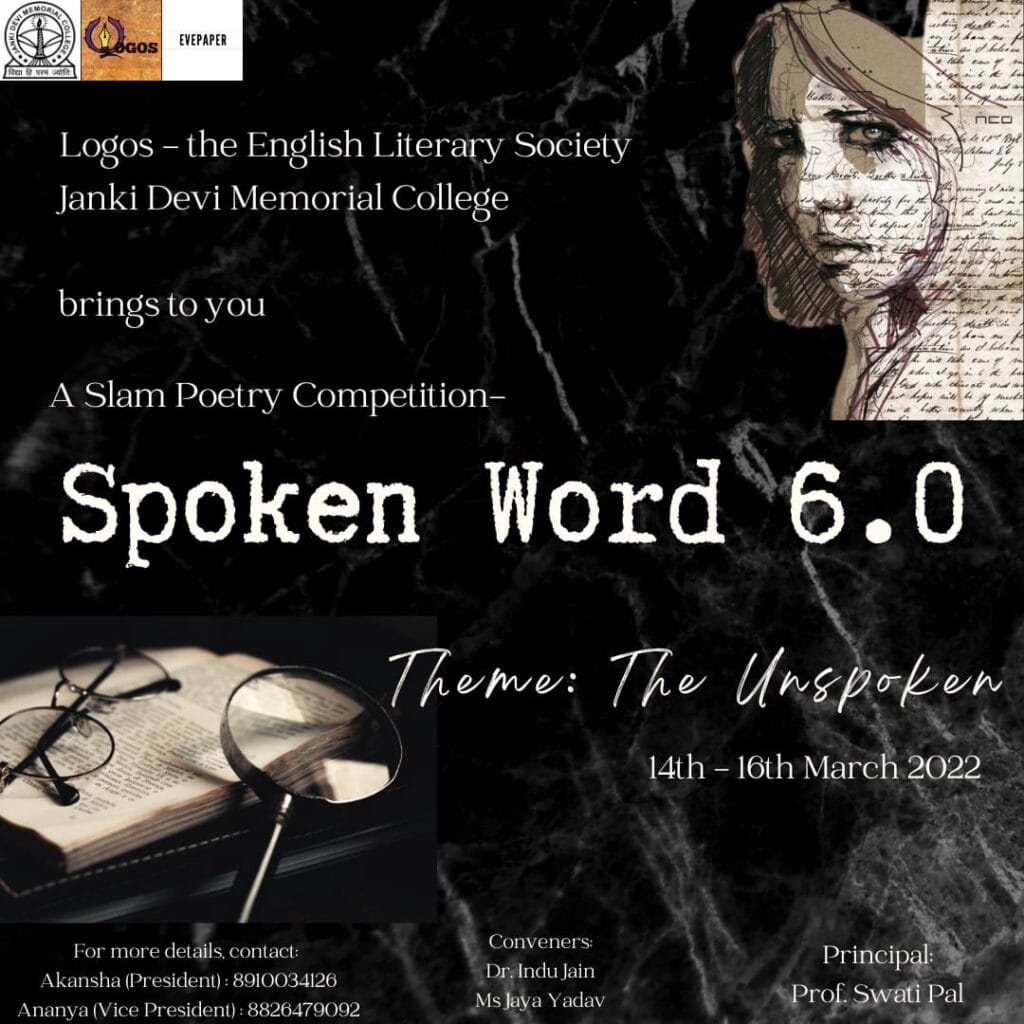 "If you have the words, there's always a chance that you'll find the way." ~ Seamus Heaney
Greetings everyone! LOGOS-The English Literary Society of JDMC is here to give you the chance that you need to bring out the expressionist in you.
We are back with our most awaited event of the year- Spoken Word 6.0 – a virtual platform for all the enthusiastic poets and speakers to put their best word forward So get ready to get all wordy from 14th-16th March'22 Theme: The Unspoken Form 
Rules for the event:
1.This is an inter college online event. The competition is open for all undergraduate students from all colleges.
2.The piece of poetry must be in English and should be relevant with the theme – "the unspoken"
3.All participants have to send a video of them performing their piece. Any entries without a video performance will not be accepted.
4.The file size of the recording should be less than 10 GB. Any file exceeding this limit will not be accepted.
5.Please ensure that you are audible, and speak clearly and loudly in the recording.
6.The duration of the video should not be more than 4 minutes long. There is no word limit to the submission.
7.Please avoid making any discriminatory remarks in your submission. Any submissions found in violation of this rule will be disqualified.
8.The registration form will be accepting responses from 14th March to 16th March.
9.The link to the form will be available in our bio. Please fill in your personal details and upload the video and a written piece of your work as well.
10.The piece must be original. Any kind of plagiarism will lead to direct disqualification. The winners will be awarded with exciting cash prizes! Certificates will be provided to all the participants. Looking forward to your participation!
Best Team LOGOS