T-shirt Painting Competition
T-shirt Painting Competition
Aranyam: The Life Science Society
Eligibility : All College Students
Mode : Offline - Auditorium, Shivaji College Campus, Shivaji Enclave, Raja Garden, New Delhi 110027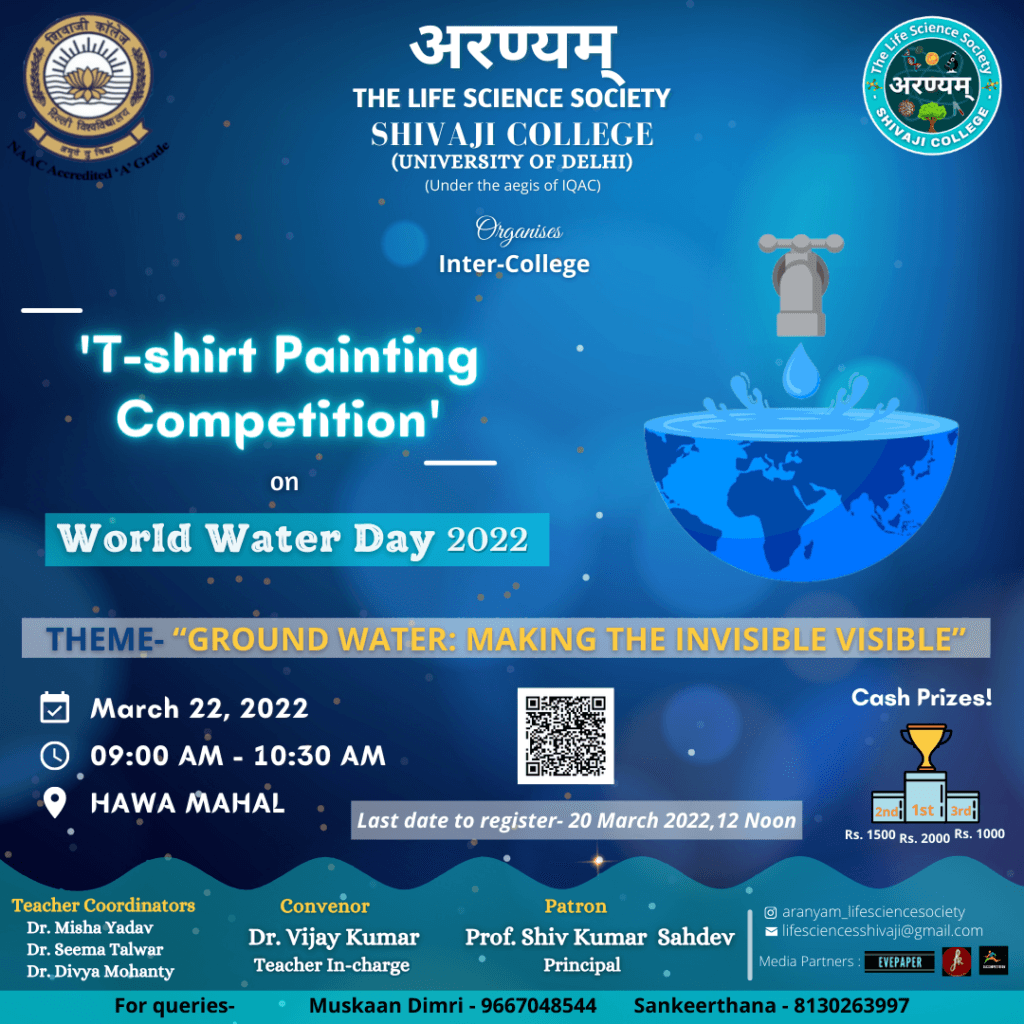 अरण्यम्: The Life Science Society of Shivaji College is enthralled to announce it's first offline event of the year on the occasion of World Water Day-2022.
We are organising the Inter-College T-shirt Painting Competition.
Theme – "GROUND WATER: MAKING THE INVISIBLE VISIBLE"
Date : 22nd March, 2022
 Timing : 9:00 AM onwards
 Location : Hawa Mahal, Shivaji College Campus, University of Delhi
 RULES & REGULATIONS
▪️It is an offline event so presence of participants is mandatory throughout the event.
▪️There is no registration fees and registrations will be held online.
▪️Only Individual participation is allowed.
▪️The competition is open for all the undergraduates.
▪️Inter-college participation is allowed.
▪️All the participants should report to the registration desk before start of the event.
▪️All the participants must show disciplined behaviour & courtesy.
▪️Plagiarism will not be tolerated and will lead to direct disqualification of the participant.
▪️All the participants will be required to bring their own colours and other necessary items for the competition. However, T-shirts will be provided by the organising committee.
▪️The last date to register for the competition is 20th March, 2022 till 12:00 PM via the form using the link given below.
 What awaits YOU?? 
1st prize – Rs 2000/- 
2nd prize – Rs 1500/- 
3rd prize – Rs 1000/- 
Certificate will be provided to all the winners and participants.
Looking Forward To An Overwhelming Participation.
Regards
Team अरण्यम्
The Life Sciences Society
Shivaji College, University of Delhi
1st prize - Rs 2000/- 
2nd prize - Rs 1500/-
  3rd prize - Rs 1000/- 
Participation Certificate