VIDHI PARIVARTAN'S 1ST NATIONAL LEGAL POSTER MAKING COMPETITION, 2022
VIDHI PARIVARTAN'S 1ST NATIONAL LEGAL POSTER MAKING COMPETITION, 2022
Date : 08-04-2022 to 23-04-2022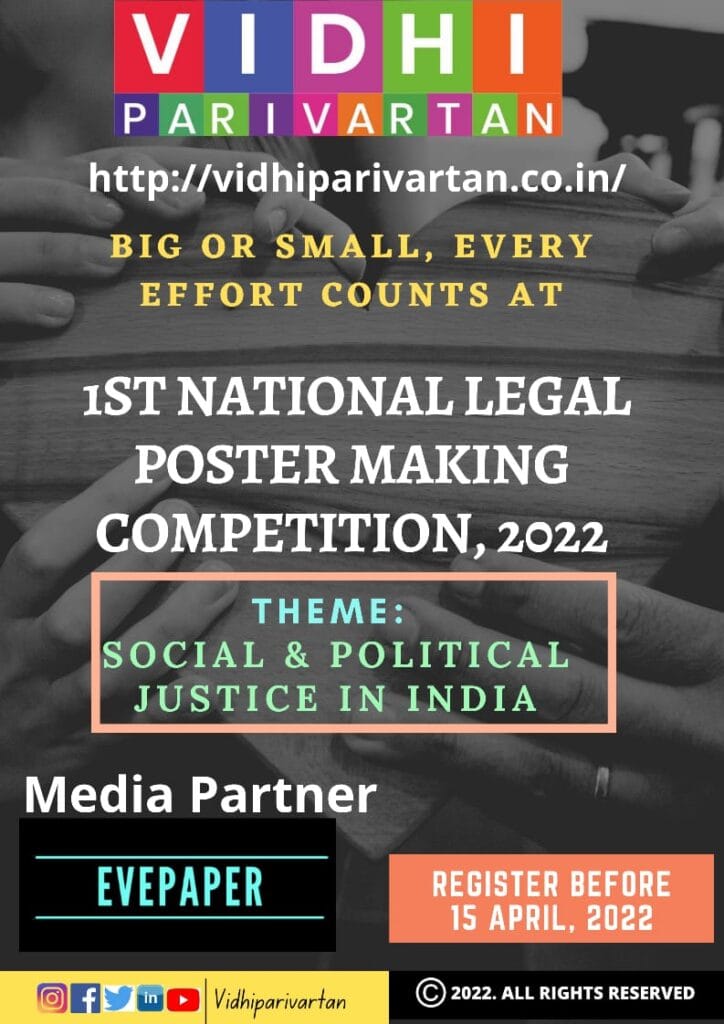 A poster is a temporary promotion of an idea, product, or event put up in a public space for mass consumption. Typically, posters include both textual and graphic elements, although a poster may be either wholly graphical or wholly text. Posters are designed to be both eye-catching and informative. The aim of the competition is to raise awareness about the theme of the event in a visually engaging fashion. It serves as a platform for expression of ideas regarding the theme and disseminating information to a wide audience. It also encourages participants to submit their innovative posters and fosters out-of-the-box ideas and opinions. 
Theme and Sub–Themes Theme: Social & Political Justice in India 
Sub-Themes: Social Injustices Women Empowerment, Role of Government in Social Upliftment, Environment Protection Policies of the Government, Three-tier structure of the Government
Note: The above sub-themes are only indicative, and the authors are at liberty to choose a different sub-theme as long as it falls within the ambit of the central theme.
An exciting Cash prize will be given to the winner of the competition. Top 3 contestants: will be eligible for a free publication of research paper in Vidhi Parivartan's Journal +Certificate of excellence + online internship opportunity at Vidhi Parivartan. Next 5 contestants: will be eligible for a publication of research paper in Vidhi Parivartan's Journal (50% off) + Certificate of Excellence + Online Internship Opportunity at Vidhi Parivartan. E-certificate of Participation will be given to all the participants.
Participation Certificate
Vidhi Parivartan
muskaan.vidhiparivartan
@gmail.com