Promethean, The Fine Arts Society of Shaheed Bhagat Singh College, University of Delhi
Eligibility : Undergraduates, Post Graduates
Mode : Offline - Shaheed Bhagat Singh College, University of Delhi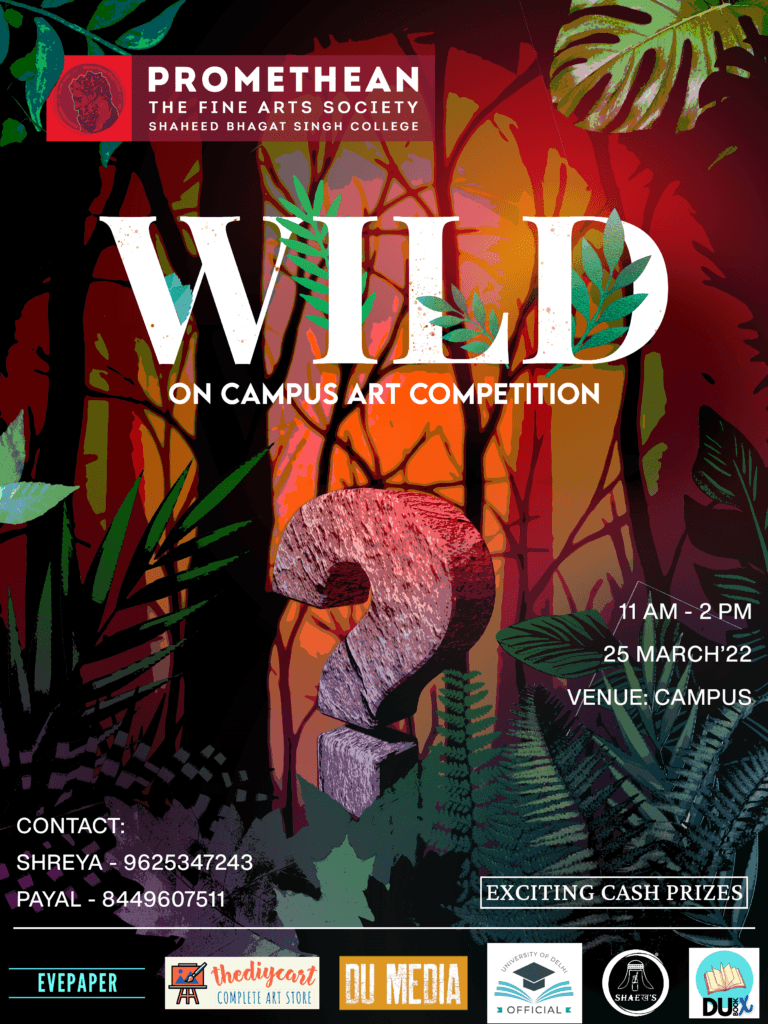 "Between the thick wooded pines, there is a doorway to a new world."
PROMETHEAN- The Fine Arts Society of Shaheed Bhagat Singh College presents "WILD" As a part of its Annual Art Fest, MIDORI'22.
A thrilling chance to show off your art and use your imagination to create a forest of your own!
DATE: 25th March, 2022
TIME: 11:00 AM – 2:00 PM
VENUE: Shaheed Bhagat Singh College
Rules and Guidelines:
• All participants must follow @promethean.sbsc
• Participants have to prepare an artwork on the theme "Forest".
• Participants will be provided with three surprise elements on the spot, out of which they have to incorporate atleast one in their forest artwork.
• A3 size sheets will be provided on the spot. Participants are requested to carry their own art supplies and geometry.
• It is an offline event and open for all college students.
• Each participant is limited to one entry.
• All artworks must adhere to the theme
• Open for all mediums and artstyles.
• Participants will have three hours to complete their artworks.
• Plagiarism and digital artworks are prohibited.
• Artworks will be judged on the basis of their creativity and originality of the concept.
• The judge's decision will be conclusive.
Perks for participating : 
 Exciting cash prizes and goodies for the winners. 
 Certificates will be provided to all the winners. 
 Refreshment drinks will be served to all participants. 
Free DUbooks coupons for all the participants.
Exciting cash prizes and goodies for the winners
Participation Certificate
Shreya
9625347243
Payal
8449607511