BYTEBASH- Competitive Programming
BYTEBASH- Competitive Programming
CS Society, Kalindi College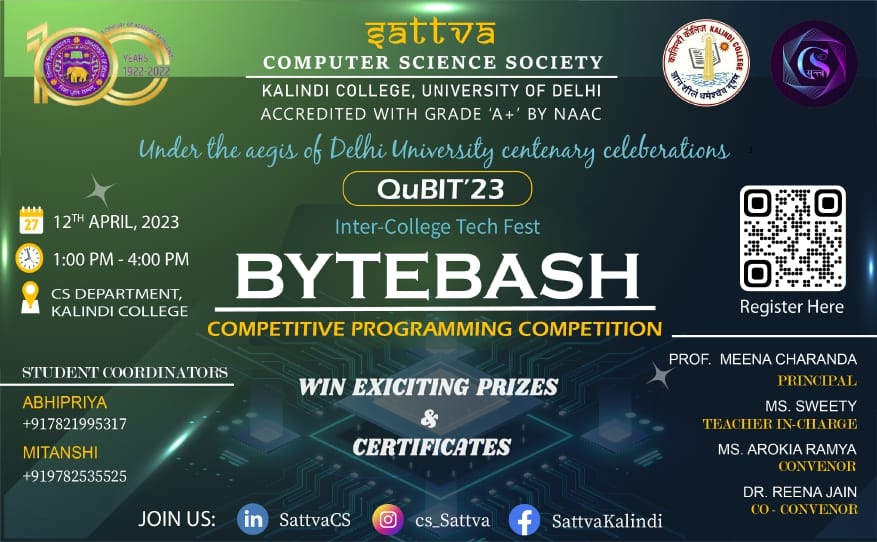 ATTENTION!!!!! Sattva is back with a bang! "You might not think that programmers are artists, but programming is an extremely creative profession. It's logic-based creativity."~ John Romero _________ Presenting to you the golden opportunity of showcasing your competitive programming talent. Sattva, The Computer Science Society of Kalindi College, University of Delhi invites you all to BYTEBASH 😉 A Competitive Programming Contest consisting of 2 rounds. under QUBIT'23<3 The Annual Tech-Fest of Computer Science Society __________ Mark the schedule:
->Venue: Computer Science Department, Kalindi College
-> Date: 12th April, 2023
-> Time: 1:00 PM – 4:00 PM __________ !!!
Last date to register: 12th April, 2023 till 12:00 Noon. For further queries, please contact:
-> Abhipriya Bhardwaj – +91 78219 95317 -> Mitanshi Dhingra – +91 97825 35525
Abhipriya Bhardwaj
+91 78219 95317