Business Quiz: ComQuest'21
Department of Commerce, Jesus and Mary College
Eligibility : Undergraduates, Post Graduates
Team : Individual, Team of 2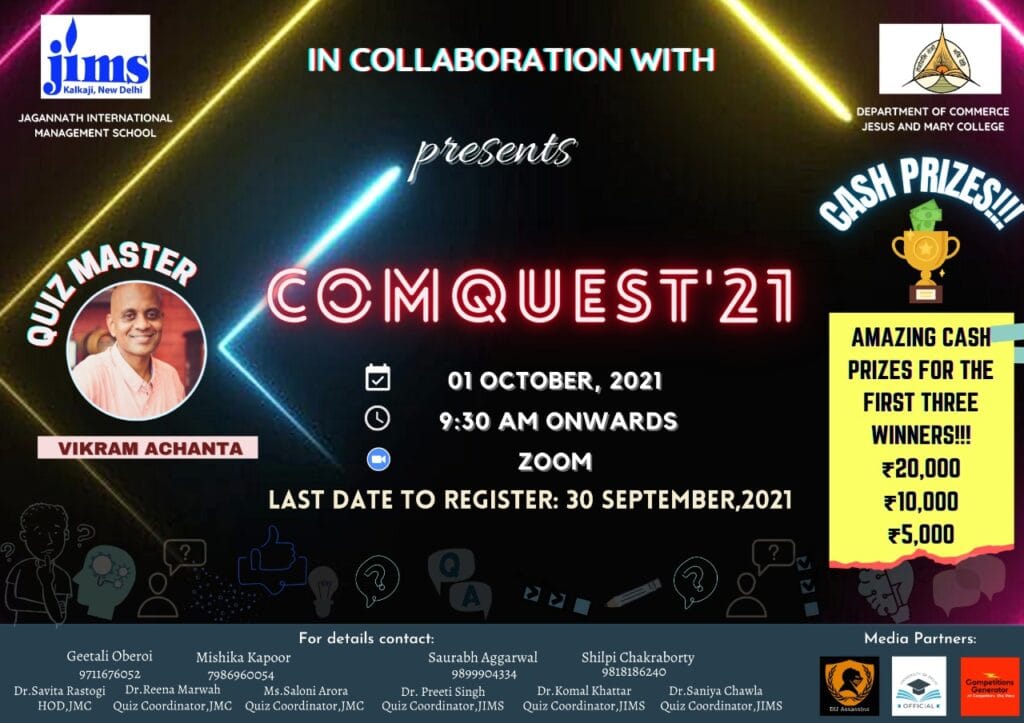 Greetings to all quizzers and young business-oriented minds. The Department of Commerce, Jesus and Mary College, in collaboration with JIMS Kalkaji, is elated to present the much awaited and stirring Business Quiz: ComQuest '21 There will be a preliminary round and final round.
Following are the rules:
The preliminary round will consist of 20 questions, a mix of oral, still images and audio-video.
It will be divided into 4 rounds of 5 questions each, with the last round having starred questions.
All the questions carry 10 points each and the starred questions carry double points.
Each question has a time limit of 15 seconds to be answered.
Participating teams need to dm the Quiz master with their answers.
In the event of tie-break, a 3 question tie breaker will be held.
There will be a gap of 1-2 hours between the prelims and the final round.
The top 8 team will qualify for finals.
Following are the rules for the final round:
There will be 4 rounds of 8 questions each.
All the 8 teams will be present on the zoom link, and questions will be posed to them in turn.
For further details, contact the organisers.
1st prize- Rs 20,000
2nd- Rs 10,000
3rd- Rs 5,000
Geetali Oberoi
9711676052
Mishika Kapoor
7986960054