Deen Dayal Upadhyaya College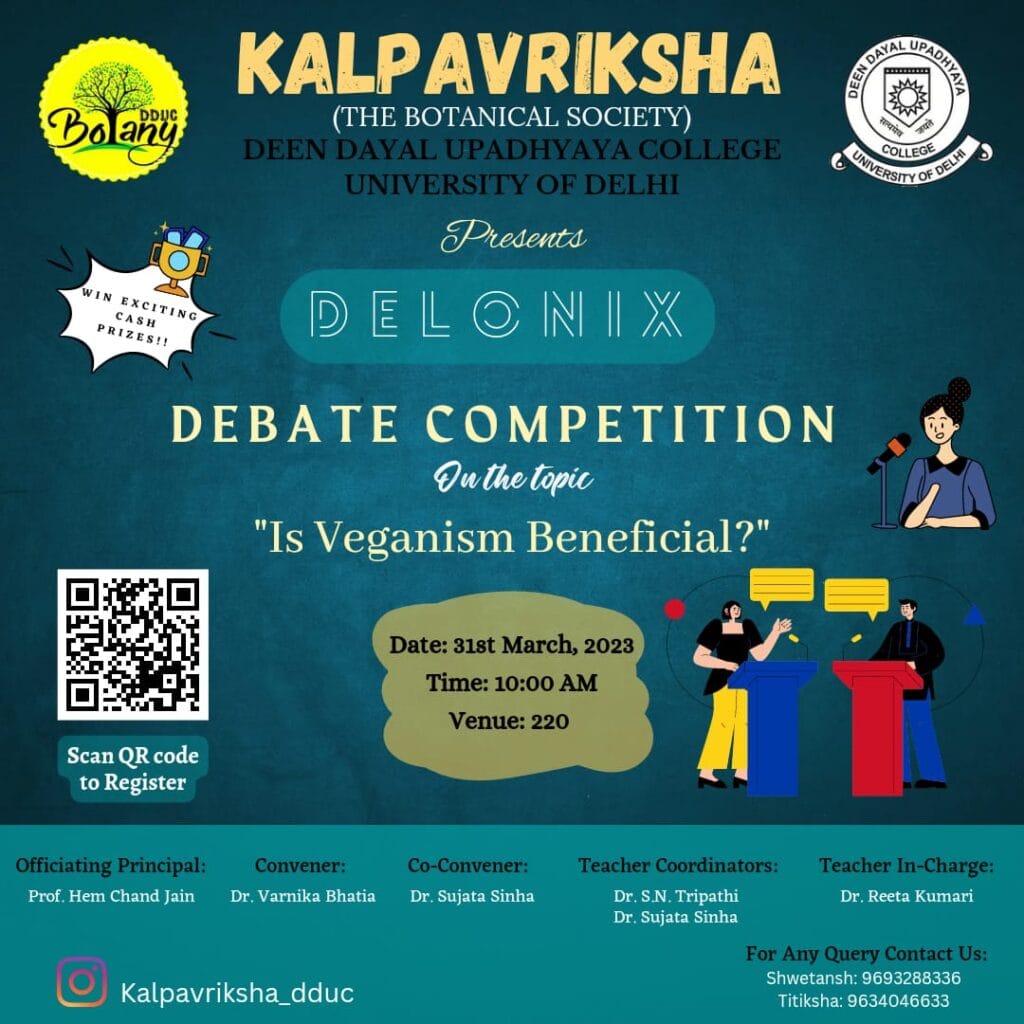 KALPAVRIKSHA- The Botanical Society of Deen Dayal Upadhyay College, University of Delhi is back with its annual fest 'DELONIX' with Pandit Deen Dayal Upadhyaya Rolling Shield Debate Competition!
Topic: Is veganism beneficial ?
Date : 31st March, 2023 Time: 10:00 a.m
Venue- Room no: 220
EXCITING CASH PRIZES WORTH 6K!
RULES & GUIDELINES: 
The participants will be told whether they have to speak for or against the motion one day prior to the competition, so that they have adequate time for preparation. 
 Language can either be Hindi or English. 
Participants will have to comply with a time limit of 3 minutes, followed by 2 minutes for questions. 
 It is on the participants how they want to answer and marks will be given to the individual on the level of relevance the answer holds. 
The individual must stick to a single language. 
Exceeding the time limit will be a discredit and marks will be deducted for that. 
The judgement of the judges will be final. 
 The individuals will be given a serial number and the participants will have to wait for their turn. 
 Reach the college premises half an hour prior to the competition. Certificate of participation will be provided to each participant!
REGISTRATION LINK https://linktr.ee/KalpavrikshaDDUC 
Convener- Dr. Varnika Bhatia Co-convener- Dr. Sujata Sinha Teacher Coordinators – Dr. Sachidanand Tripathi & Dr. Sujata Sinha For any queries, contact: Shwetansh-9693288336 Titiksha- 9634046633
Participation Certificate