Floral Mystery: Riddle competition
Floral Mystery: Riddle competition
Deen Dayal Upadhyaya College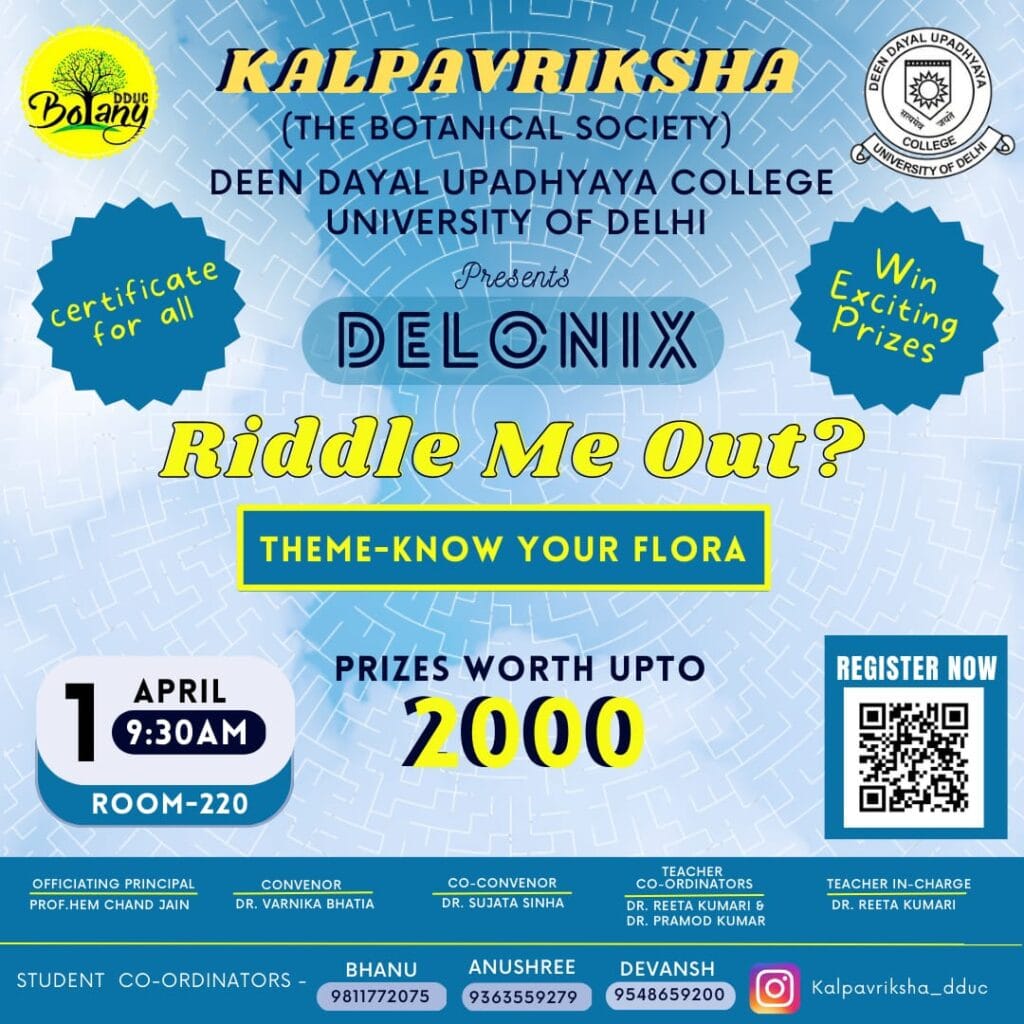 When one of my plant dies, I die a little inside, too – Linda Solegato
✨Warm greetings to all!!✨
  🌳 Kalpavriksha, The Botanical Society 🌳of Deen Dayal Upadhyaya College, University of Delhi is delighted to welcome you all to our annual fest Delonix🥳, On the occasion of our series of events we are thrilled to inform you that we are organizing an inter college Riddle competition that is *Floral mystery* 🤩.
✅Theme – know your flora🌱
🗓Date – 1st April, 2023.
🕐Time- 9.30 AM 
📍Venue- Room no. 220
Guidelines:-
👉 participants must reach the venue 15 minutes prior the competition starts.
👉participants must have their college I'd with them.
👉There will be 3 rounds in total and the one who persists till the 3rd round and qualifies it will be the winner.
👉Refer more about plants, it's going to be quite fun. 
We welcome you all to participate in the competition!🤩🎊
REGISTRATION LINK👇🔗

Don't forget to join the WhatsApp group after registration.

📌 Exciting cash prizes worth 2K ! 😌✨

⚜️Convener: Dr. Varnika Bhatia
⚜️Co-convener: Dr. Sujata Sinha
⚜️Teacher co-ordinators: Dr. Reeta Kumari & Dr. Pramod
 
For queries contact:-
Anu Shree- +919363559279
Devansh   – +919548659200

Regards ✨
Kalpavriksha, DDUC
Participation Certificate