Kirori Mal College Model United Nations
Kirori Mal College Model United Nations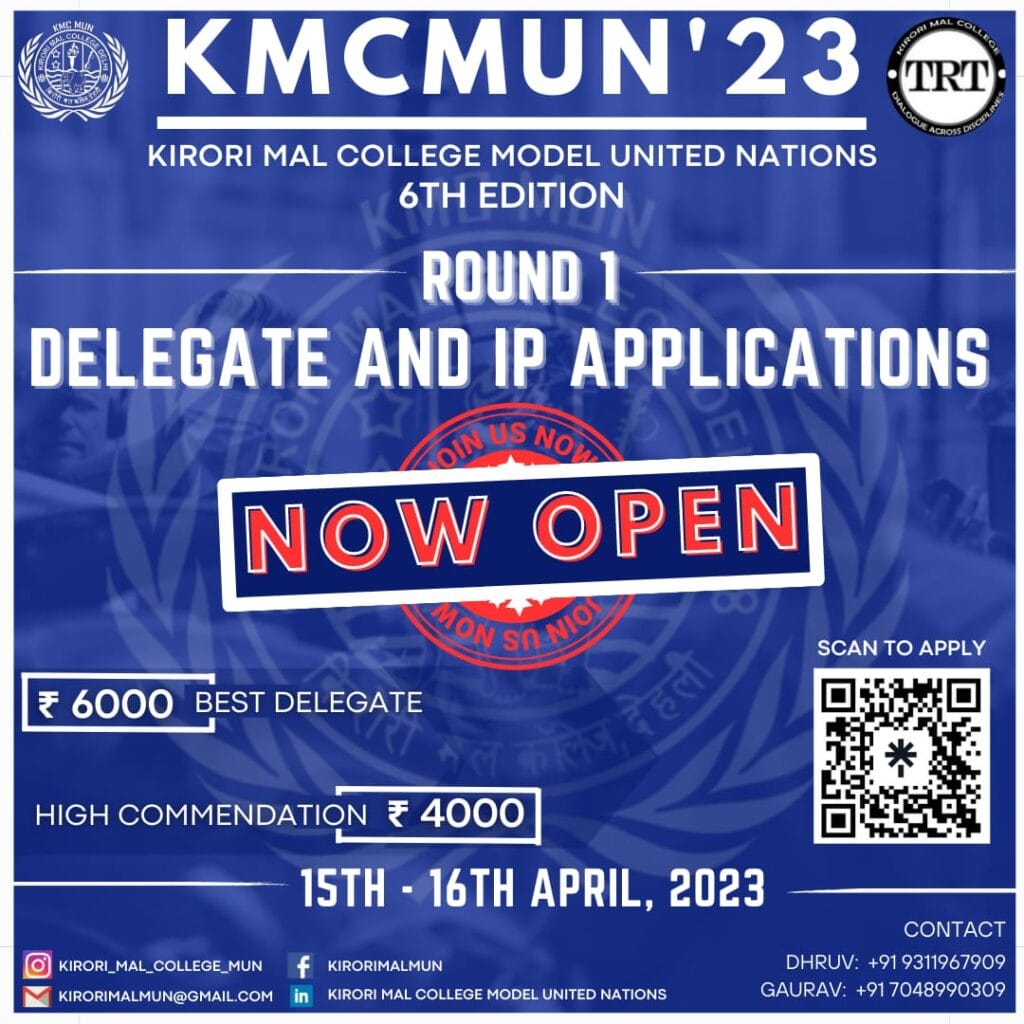 "Diplomacy is more than saying or doing the right thing at the right time, it is avoiding saying or doing the wrong things at any time." The Round Table, Kirori Mal College University of Delhi brings to you KMCMUN'23, a legacy which continues to get bigger and better. Here at KMCMUN, the participants- both novices and veterans bring a fresh mindset, a problem-solving approach and an innovative outlook to the table. With these thoughts to empower the youth, The Round Table, Kirori Mal College, allows you to debate, discuss and voice out your opinions and have the experience to cherish forever. The Secretariat proudly unveils the dates of KMCMUN'23, where we come together to become better leaders of tomorrow. So get ready on 15th & 16th April 2023, to be a part of something bigger and better than ever.
The Secretariat of Kirori Mal College Model United Nations also proudly announces the first round of Delegate Applications and IP Applications open! Kindly note that the fees for Delegate Applications is INR 1200/- and delegate fee with accommodation for two days is INR 1800/-
The committees with their agendas are as follows: 
1. United Nations Security Council (UNSC): Militarisation and armament of the Arctic and its foreseeable impact in the global scenario. 
2. United Nations General Assembly (UNGA) – DISEC: Resolving the deadlock of disputed territories and illegal settlements with special emphasis on crisis in post conflict states 
3. All India Political Parties Meet (AIPPM): Efficacy of implementing the Uniform Civil Code. 
4. United Nations Human Rights Council (UNHRC): Protection and Prevention of violation of Human Rights in conflict and Post conflict regions with special emphasis on Children and women 
5. International Press This year International Press will have reporters, photographers and caricaturists So get ready to deliberate over the contemporary conundrum and stand a chance to win exciting cash prizes as well.
Cash prizes to be won per committee: Best Delegate: ₹6000, Best Reporter: ₹6000,Best Caricaturist: ₹6000, Best Photographer: ₹6000, High Commendation: ₹4000 
In case of any queries, contact: Dhruv Gupta: +91 9311967909 (USG Delegate Affairs) Gaurav Saraf: +91 7048990309 (USG Delegation Affairs) Radhika Verma: +91 9773948680 (USG IP Affairs)
Prize pool worth over INR 30,000/-
Participation Certificate
Dhruv Gupta: +91 9311967909
Gaurav Saraf: +91 7048990309