Lady Shri Ram College for Women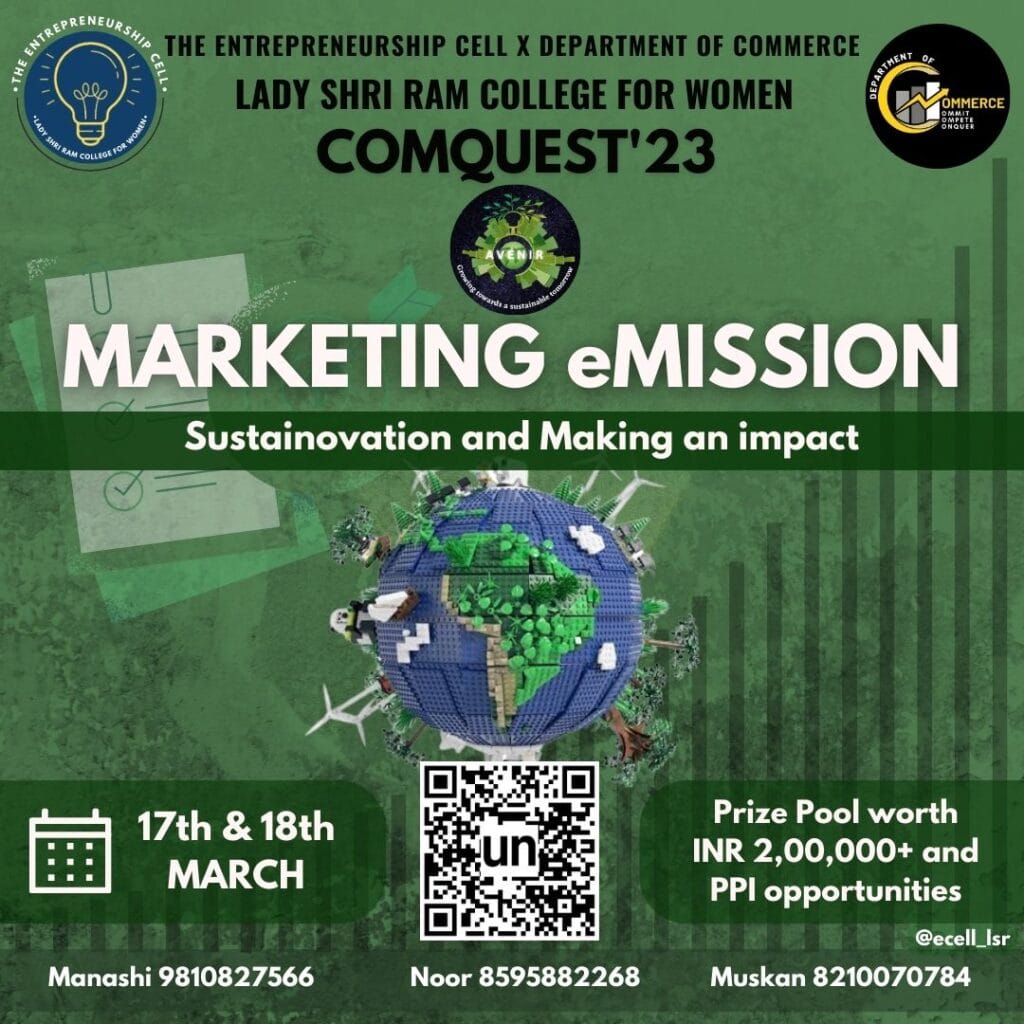 With consumers being the king of the market and having access to products from all over the world a single click away 'Marketing' is the most powerful tool to a long-lasting success. In the formidable competition of the business world, where profits are the only goal, whatever the cost may be, are you someone who believes in sustainovation? Ever look at someone and think – I could sell this So Much Better?  Are you a Kotler head with a knack for making an impact? Does everything sustainable sound like your way of business? It's time to put those creative minds to test as we present to you: Marketing eMission in line with Comquest 2023' theme: "Avenir: growing towards a sustainable tomorrow". Push your limits and give free reins to your imagination to find innovative solutions to various marketing problems while keeping in mind the ecological cost of your decisions. The competition is spread over three rounds demonstrating vividity of ideas, turning adverse situations into Opportunities, understanding the target and pitching skills with a focus on sustainable and differentiable growth of the brands. With the exciting opportunity to grab amazing prizes, join us and share with us your resourceful ideas and be a part of this thrilling event! Rounds-
Quiz Round (on Unstop)
This round will consist of questions revolving around all phases of marketing such as brands, companies, techniques, theories, etc. The participants are required to answer the questions within a time frame of 20 minutes. The round is eliminative, and the selected teams move forward to the subsequent rounds on campus.
Start Date: 
12 Mar 23, 12:00 PM IST
End Date: 
12 Mar 23, 04:00 PM IST
Round 2: Hunt for Advertos
The participants will be playing with an essential element of marketing in this round 'The Advertisement'. In this round, participants would be required to step into the world of commercials and would be challenged to create the most creative and engaging advertisements using a set of completely unrelated items. Sharpen your eyes and ears as the right choice marks your victory. The round will be held offline on campus.
Start Date: 
17 Mar 23, 08:00 AM IST
End Date: 
17 Mar 23, 06:00 PM IST
Round 3: Adroitness in 'Application'
Modern day sees unusual marketing tactics with a profound importance given to digital world. This round will provide an opportunity to bring out the combination of Kotler, Martin Cooper & Steve Jobs hidden in you. Participants will be required to pitch a business for the company cum product they have created in the previous round uniquely. This round is going to be different from the usual business pitching and will allow the participants to showcase their creativity, innovation, and strategy in a new and unusual manner. This round will be held offline on campus.
Start Date: 
18 Mar 23, 08:00 AM IST
End Date: 
18 Mar 23, 06:00 PM IST
Winner- Rs. 5,000
First Runner Up - Rs. 3,000
Second Runner Up- Rs. 2,000
Participation Certificate
Manashi- 9810827566
Noor-8595882268