Miranda House's Eco-Extravaganza: A Triumph for World Environment Day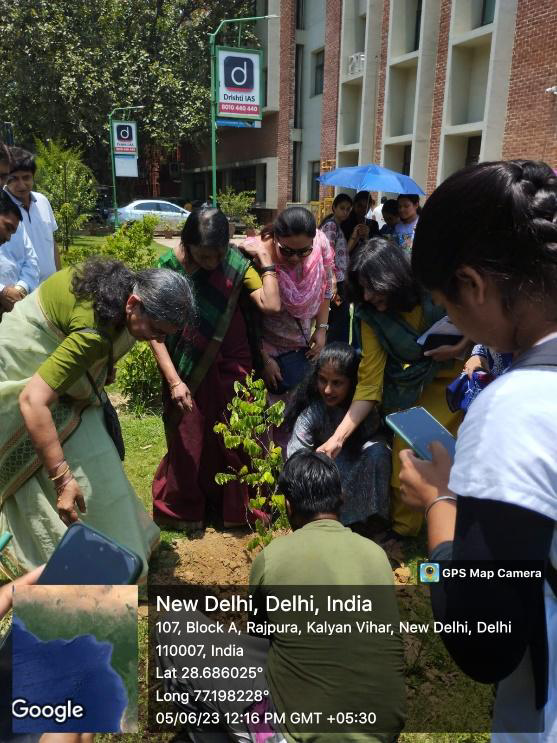 World Environment Day, an annual global beacon of hope, shone brilliantly at Miranda House on June 5, 2023. The eco-champions of MH Vatavaran orchestrated a dazzling celebration under the rallying cry of "Beat Plastic Pollution." This event, a harmonious blend of passion and purpose, united students and faculty in a powerful environmental symphony.
Madhuban" Unleashed:
"Madhuban," MH Vatavaran's annual magnum opus, emerged as a beacon of enlightenment. The unveiling, a ceremony of wisdom, featured articles and artwork that danced around environmental issues and solutions.
Planting Hope:
A sapling symphony unfolded as volunteers planted trees, nurturing the local environment and echoing the call for climate action. Each sapling symbolized a commitment to a greener, healthier planet.
Quiz Showdown:
A knowledge showdown ensued with the eco-quiz competition, illuminating the path to beat plastic pollution. Sara emerged as the champion, flanked by Kanishka, Shreya, and Palak, all torchbearers of a plastic-free future.
Miranda House's World Environment Day celebration wasn't just an event; it was a movement. MH Vatavaran's unwavering dedication, esteemed guests, and the vibrant participation of students and faculty elevated it to extraordinary heights. This spectacle ignited a passion for environmental stewardship, affirming Miranda House's commitment to shaping a sustainable future.
Tanisha Victor 
Research and Content Team Head,
MH VATAVARAN,
MIRANDA HOUSE