Lady Shri Ram College for Women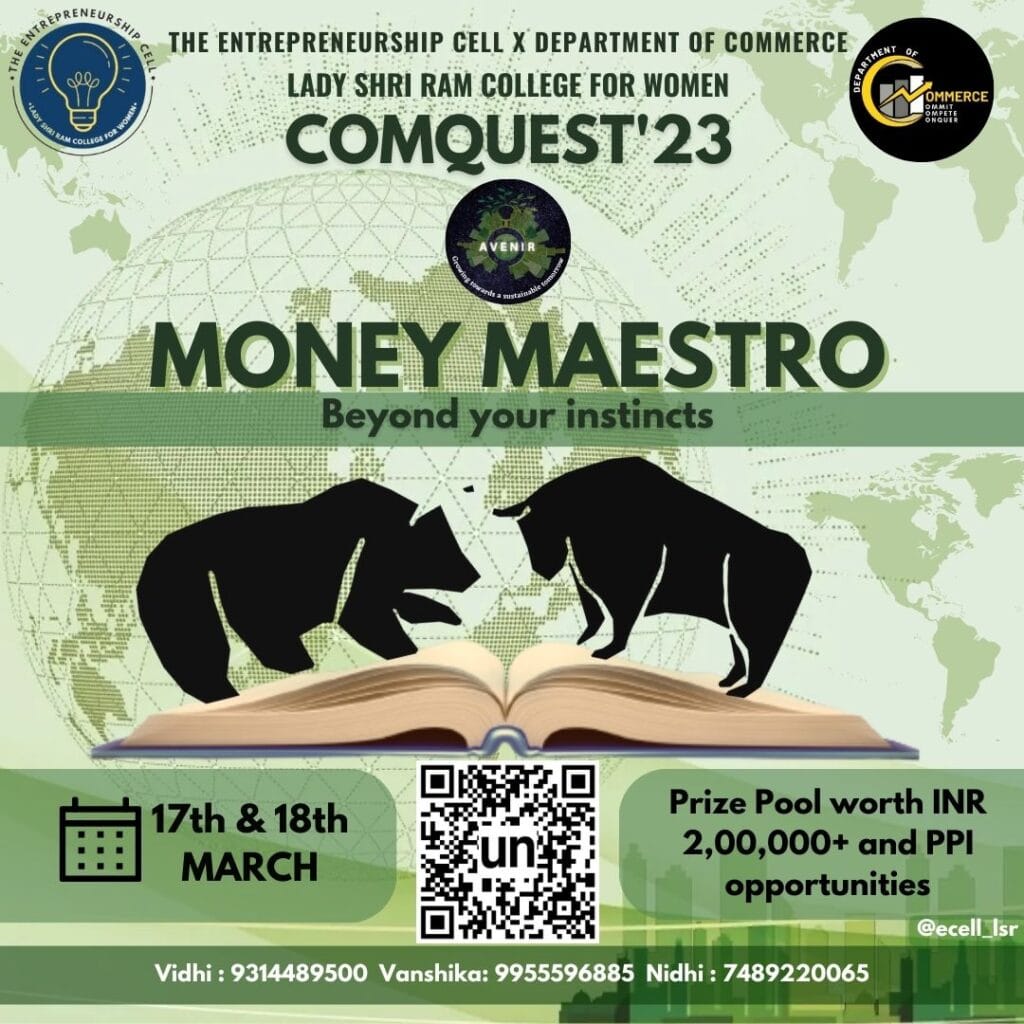 Are you aspiring to be the next Warren Buffet? If you wake up every day yearning to feel the market's rhythm beating in time with your own heart, then now is your chance to immerse yourself in the world of Dalal Street traders, where you can overcome the odds and experience the adrenaline rush of success. With "Money Maestro" presented in conjunction with COMQUEST'23's "AVENIR- growing towards a sustainable tomorrow" theme, it's time to put your analytical mind to work and trust your financial instincts. You'll need to navigate skillfully through a vast array of equities and stocks to build a winning portfolio and achieve your goal of coming out on top. As the old adage goes, "Risk comes from not knowing what you're doing," so if you find the volatile and unpredictable realm of finance thrilling, then you've come to the right place. Get ready to engage in the ultimate battle of wits and exhibit your analytical and investment prowess. It takes more than just style and luck to succeed, as it is shrewd and intuitive who will ultimately triumph. Rounds-
Quiz Round (on Unstop)
Time to get your thinking caps on and ace the quiz! Get ready to stimulate your senses with questions based on finance, investments and nimble thinking. It is a game of applying yourself while racing against the clock.
Start Date: 
12 Mar 23, 07:00 PM IST
End Date: 
12 Mar 23, 08:00 PM IST
Wall Street Survivor
The Mock Stock event offers a thrilling and exciting opportunity to test your analytical skills and financial acumen in the world of financial markets. You will have the chance to step into the shoes of an investor, evaluate real-life news, and use your logic to determine the best strategy to maximize your earnings and strengthen your portfolio. It is a challenging and exciting event that will put your financial knowledge to the test. Gear up for the most thrilling day in your trading voyage. This is an experience, an encounter that could leave you in the streets or in the sky. Test your luck, test your wits, but don't let the market leave you in bits.
Start Date: 
17 Mar 23, 12:00 PM IST
End Date: 
17 Mar 23, 05:00 PM IST
The Budget Breakthrough
"Between calculated risk and reckless decision-making lies the dividing line between profit and loss." Portfolio management entails the creation of an investment portfolio based on investors' income, budget and appetite for risk. In your endeavour to maximise returns, analyse meticulously to identify threats and make prudent choices between debt vs equity, domestic vs international, growth vs safety, and other trade-offs involved. Match investments to objectives and balance uncertainty against performance as you strive to conceive the optimum portfolio, capitalising on strengths and negating risks.
Start Date: 
18 Mar 23, 12:00 PM IST
End Date: 
18 Mar 23, 05:00 PM IST
Winner- Rs. 5,000
First Runner Up - Rs. 3,000
Second Runner Up- Rs. 2,000
Participation Certificate
Nidhi Patel
+917489220065
Vidhi Moondra
+919314489500