Project Hunger Mega Drive by Vishalakshi Foundation
About Vishalakshi Foundation
Our mission is to improve the quality of life and every child attains the right to survival, protection, development and participation. Progressively maintain extensive infomediaries via extensible niches orphan disseminate metrics after resource-levelling processes. Objectively pursue diverse catalysts for change for interoperable meta-services. As Mahatma Gandhi has rightly said – "Be the change you wish to see in the world !"
In this egotistical and materialistic world, there are only a handful of people who really look around to see the pain and suffering of others and are blessed with the gifts of benevolence and kindness. Our NGO, VISHALAKSHI FOUNDATION is blessed to have one such amazing philanthropist, Mr Nilay Agarwal as our founder, who has devoted his entire life to selflessly work for the poor children and humanity. Mr Nilay Agarwal had a dream where every child is gifted and provided with the basic necessities and care he or she truly deserves. After the successful implementation of Project Hunger, where we youngsters aim to feed the unfortunate kids specifically the kids of the slums who cannot even afford a daily meal and have to go hungry most of the time, we had an urge to do something big for these slum children.
Location of the Event : Gurugram
Register by : March 27, 2021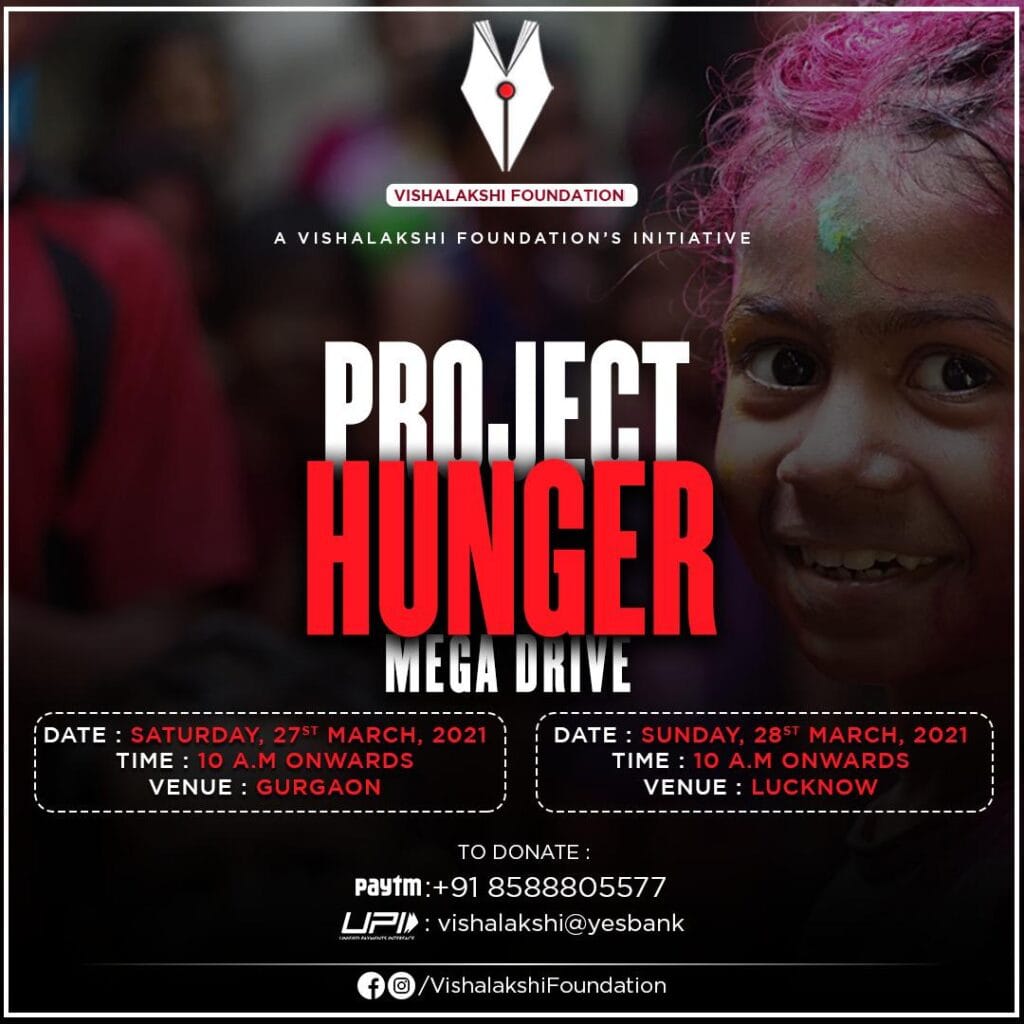 Exact Location of the Event :
About Dream Slum & Dream School Project
Our aim is to provide them with the opportunity to learn in different ways possible. "Education is the fundamental right of every individual and is a necessity in today's scenario." We are here to provide them with every avenue of learning materialistically through distributing books, notebooks, colours, colouring books, benches, tables, mats, towels, slippers and necessary stationery items. So, none of them feels deprived of anything and they stand up straight and confident to achieve their goals in life. Our second and foremost goal remains access to good nutritional food to them.
Periodically, we organise a small party for the children so that they can feel a little pampered and can enjoy the beauty of life among themselves. In addition, we have tried to shape every child physically, mentally and socially. Not only this, we are trying to generate employment for unemployed parents and adults residing there. Employment is the major need for surviving. As income can not only buy the commodities to live the desired life but also makes the individual independent so that they can further preach and make their child grow and learn to face the challenges of life. So this way, if we "Keep walking on the way to hard work, the way shall appear."
Roles and responsibilities of the Volunteer
Serving meals to the slum children and families living in the slum.
Interacting with slum children.
Organising competitions for kids
Perks
UPI : vishalakshi@yesbank
PAYTM: +91 8588805577