Quest- An educational intercollegiate seminar of Nagindas Khandwala College
Quest- An educational intercollegiate seminar of Nagindas Khandwala College (Malad West)
Nagindas Khandwala College (Malad west)
Mode : Offline - 1st Floor, A Wing Chamunda Circle, Sodawala Lane, Borivali West, Mumbai - 400092, Near Borivali Railway Station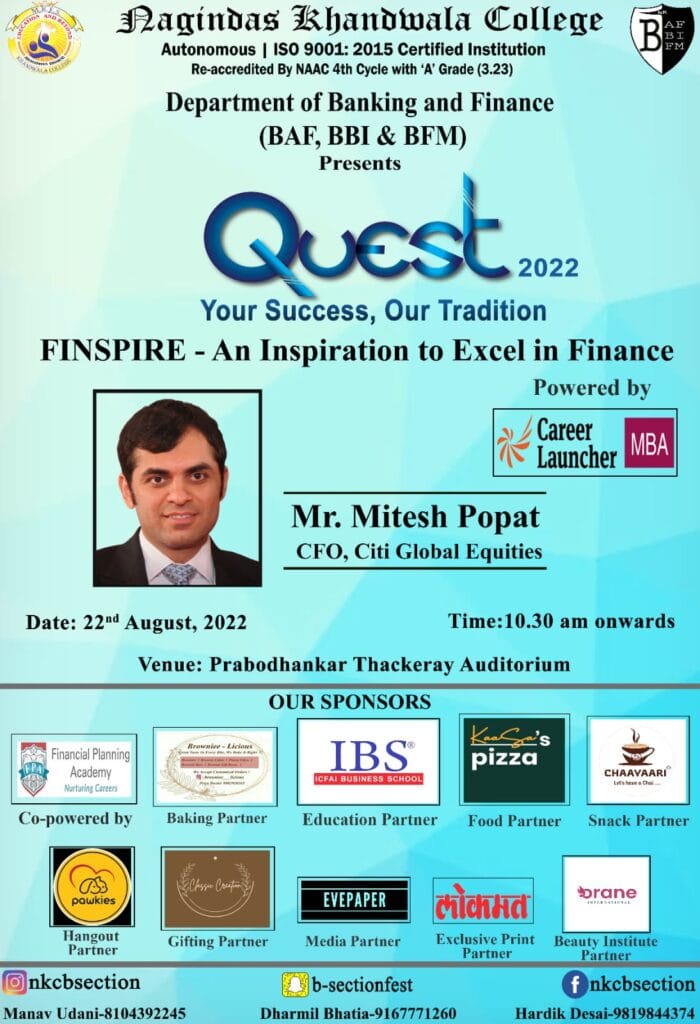 Nagindas Khandwala College, The Department of Banking and Finance presents 'QUEST' 2022 
   Nagindas Khandwala College of Commerce, Arts, and Management, Malad (West) has multiple departments like B-Section, BMS, ITCS, B. COM, and BAMMC, with each department having its fests.
 The Department of Banking and Finance of Nagindas Khandwala College
 was formed with the amalgamation of three-degree programs, namely B.Com (Accounting and Finance), B.Com (Banking and Insurance), and B.com (Financial Markets), renowned as the 
B-section
.    
You might wonder what is Quest.
Quest 
is an extensive 
educational inter-collegiate seminar
 packed with perception, information, and innovation, organized by the Department of Banking and Finance of Nagindas Khandwala College. The seminar anchors the proficiency of the varied scope in banking and finance. Over the period, the seminar has gained eminent popularity among the students from different colleges in 
Mumbai
. We witnessed a 
footfall 
of approximately 
700 participants 
last year, i.e., on 25th September 2021, which was held online due to the Covid-19 pandemic.    This year with god's grace, we will be hosting the 19th addition of Quest on 22nd August 2022, in the offline mode with an enlightening theme 
FINSPIRE-An inspiration to excel in finance
. A concise river where knowledge collides with finance along with inspiration to awaken the ability of an individual to sustain a financially sound life as finance encompasses more than money and also an individual's mentality and demeanour on the monetary ground. Hence, in the world of finance, our efforts are to target the youth to make them understand the effective ways of managing their monetary affairs and devoting them to better investment plans and formulating a bigger financial view.    
Speaker for Quest 2022: 
 We are pleased to announce that we are going 
global 
on the charts with our profound speaker for the year,
 Mr.Mitesh Popat
– a man of principles and intellectual thoughts. According to him, finance is exposure to the divine and exceptional art.    
About Generalist, Mr. Mitesh Popat:
Chief Finance Officer (CFO) at Citi Global Equities, Sales and Trading, franchise in New york
Chartered Financial Analyst
Alumni of IIT 
Angel investor for startups based in the USA, UK, and South Africa
  A 
generalist 
in the language of a 
CFO
, whose expertise lies in multiple areas such as trading, sales, engineering, communication skills, and risk management for businesses. Yes! We are serving a feast of knowledge on a global plate. We will advise you to grab the opportunity and accomplish a beneficial fate.   Knowledge is power. Information is liberating. Education is the premise of progress, in every society, in every family. -Kofi Annan 
Details:
Quest- An educational intercollegiate seminar of Nagindas Khandwala College (Malad West)
Date
: 22nd August 2022 
Time
: 10:30 am onwards 
Venue
: Prabodhan Thackeray Auditorium, Borivali (East) 
Fee for registration
: ₹100 each 
Refreshment: Food box (no charges applied) 
Contact: Manav Udani: 90821 21061                 Dharmil Bhatia: 91677 71260  
Additional Perks (If any)
A food Box, will be provided to every participant. ( No charges Applied)
Dharmil Bhatia
91677 71260