QUEST by Nagindas Khandwala College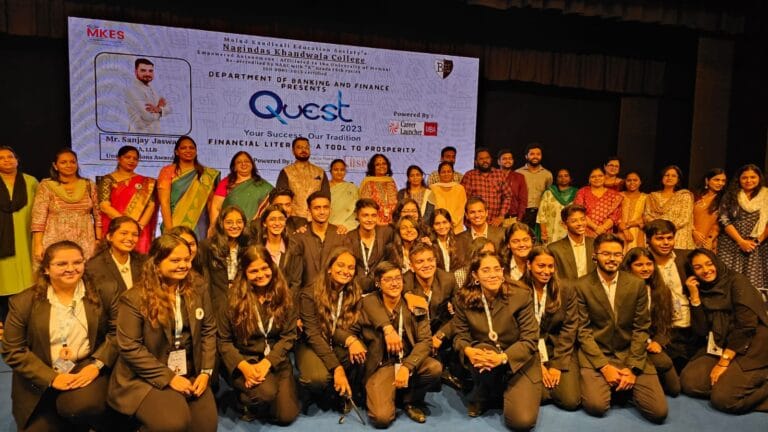 The intercollegiate educational seminar by Nagindas Khandwala College known as Quest: Your Success, Our Tradition is organised by B.Com. (Accounting and Finance), B.Com. (Banking and Insurance), and B.Com. (Financial Markets), popularly known as B-Section. It will be the 20th edition and is to be held on September 4, 2023, at Prabodhankar Thackeray from 10:00 a.m onwards With over 19 years of NKC B-Section organising Quest each year, Quest 2023 is going to be a marvellous and informative seminar.
The contemporary theme of this seminar is related to the financial sector, and eminent speakers are invited to address the topic. Students from various colleges are invited to participate.
The theme of this year is Financial Literacy: A Tool to Prosperity. Students will learn many things about personal finance, debts, investments, housing, cars, salaries, investments, safe investments, passive investments, active investments, zero emi, etc.
Last year, the theme of Quest was Finspire: An Inspiration to Excel in Finance, and it was held on August 22, 2022. It was the 19th edition, and the speaker was the Chief Financial Officer for Citi's Global Equities sales and trading business franchise in New York, Mr. Mitesh Popat. He is an NRI speaker, an IIT pass-out, and later opted for a career in finance. He first joined the company in 2006 in Citi's Treasury division. Throughout his career, he has successfully led and seamlessly transitioned through various functions within the CFO discipline. Mitesh Sir is also an angel investor in various startups based in the US, India, and South Africa. He became a Chartered Financial Analyst in 2006. Mitesh sir graduated from IIT Kharagpur and completed his master's degree in engineering from Johns Hopkins University, USA. Moreover, his perspective and vision of the corporate world are simply phenomenal. His diligence and passion towards his work have inspired a large audience. His dexterity with regard to finance was very well appreciated by the students at Quest!
Students learned how to excel in finance. The key focus of the seminar was to evaluate the difference between specialisation and generalization. Specialisation is to specialise in a single course, and generalisation is to generalise everything and be an all rounder. The audience as well as the speaker, Mr. Mitesh Popat, put forward their views and opinions regarding the same.
The speaker of this year's intercollegiate seminar, QUEST 2023, is a CFA, MEC, M.Com., and LLB graduate. He is a United Nations awardee. He is also a nominee for the Padmashree Award. He is none other than Mr. Sanjay Jaswani. He is going to educate students about personal finance, debts, investments, housing, cars, salaries, active investments, safe investments, passive investments, and zero EMI. Mr.Jaswani is not just an entrepreneur but also the author of a stock market investment book. He was invited to share his insights on auto insurance policies on CNBC Awaaaz. His experiences and ideas will surely inspire one and all to move forward.