National Service Scheme DCAC Unit
Mode : Online - Google meet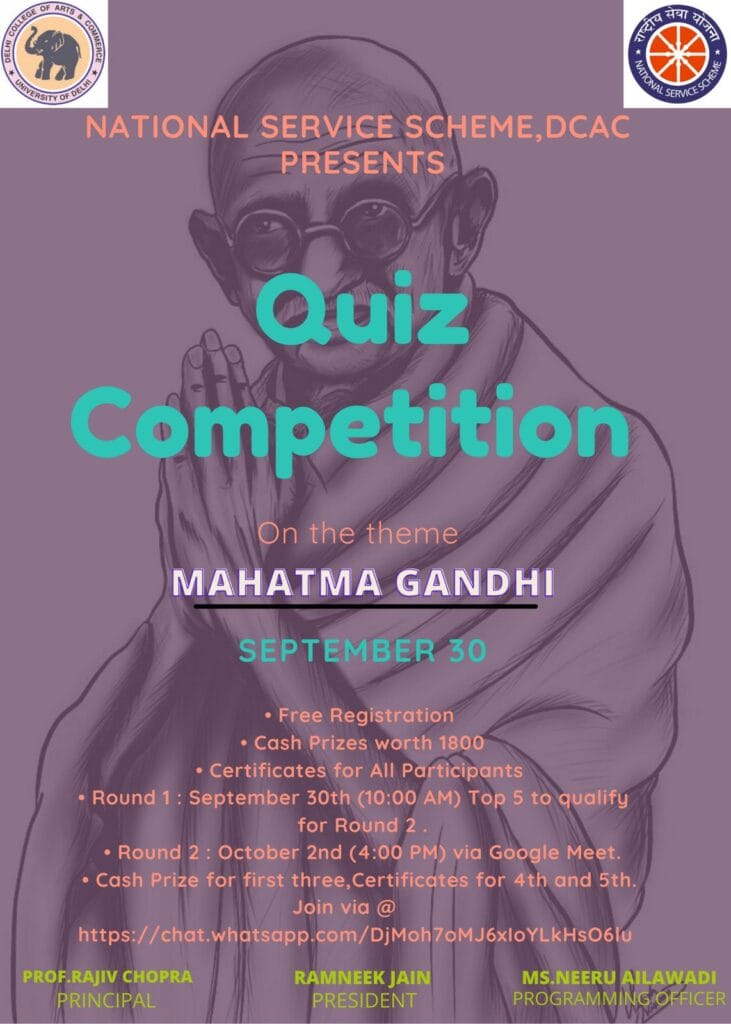 "Be the Change you want to see in the World"- Mahatma Gandhi
Greetings from Project Sensitization NSS, DCAC Project Sensitization takes immense pleasure in organizing a Quiz Competition on the occasion of Gandhi Jayanti !
The competition is open to all.
The Quiz will have two rounds.
The first round will be on form, and the second round on Google Meet.
Top 5 will be selected from the first round and at the end of second round
Top 3 would be declared the winners who would be given cash prizes worth Rs. 1800.
Certificates will be given to the Top 5 participants.
E-Certificates will be provided to all the Participants.
Rules:
Participants are requested to submit only one response in the Google form.
Link for Round 1will be available on 30th September, 2021 at 10:00 A.M. on the group.
Form link (Round 1)will be available till 30th September,2021, 11:59 P.M.
Round 2 of the Quiz will take place on Google Meet on 2nd October,2021 at 4 P.M.  
Looking forward for your Participation !
Cash Prize worth Rs. 1800
Participation Certificate
Pratyush Mallick
9658679306