Rukmini Devi institute of advanced studies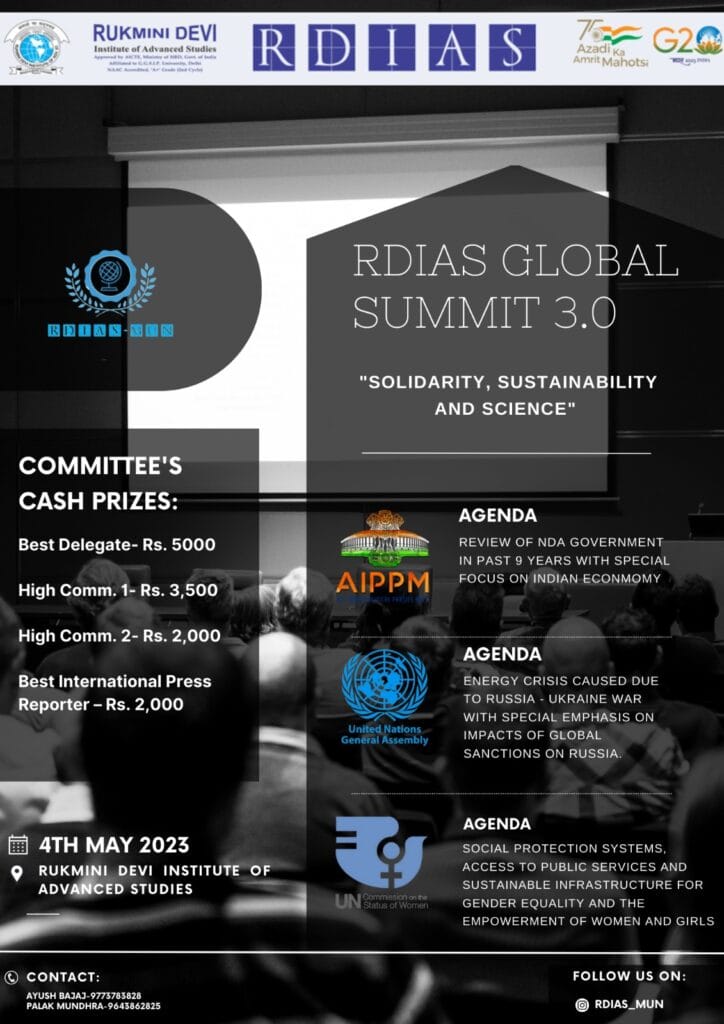 We are delighted to announce the opening of the first round of delegation applications for the RDIAS Global Summit 3.0. This exclusive summit offers exceptional leaders and innovators from all around the world a unique opportunity to collaborate and explore innovative solutions to the most pressing global challenges.
✨RDIAS GLOBAL SUMMIT 3.0✨ 🗓️ DATE: MAY 4, 2023 📍 VENUE: Rukmini Devi Institute of Advanced Studies, Delhi 🌍 COMMITTEES AND AGENDAS:
All India Political Party Meet (AIPPM) Agenda: "Review of NDA Government in past nine years with special focus on the Indian Economy."
United Nations General Assembly Agenda: "Energy crisis caused due to Russia – Ukraine war with special emphasis on impacts of global sanctions on Russia."
United Nations Commission on Status of Women Agenda: "Social protection systems, access to public services and sustainable infrastructure for gender equality and the empowerment of women and girls."
International Press
♦️BENEFITS:♦️ Certificates will be facilitated to all the participants.
Master public speaking, negotiation, and diplomacy.
Team up with diverse students to foster collaboration.
Tackle real-world problems, gain global insight.
Travel, socialize, and make lifelong friends.
Get Trained by the most experienced individuals around the world.
💵 CASH PRIZES: 🎗️Best Delegate- Rs. 5000 (for each committee) 🎗️High Commendation 1- Rs. 3,500 (for each committee) 🎗️High Commendation 2- Rs. 2,000 (for each committee) 🎗️Best International Press Reporter – Rs. 2,000 (only one)
Delegation Fee: Rs. 1000/-
Don't miss out on this chance to make new friends, expand your horizons, and make a difference in the world.
🌐 Link for registration: https://linktr.ee/RdiasGlobalSummit3.0 🌐 Instagram: https://www.instagram.com/rdias_mun/
Join the MUN community, and be a part of a Great Experience!
📞 For any query, please feel free to contact us: AYUSH: 9773783828 PALAK: 9643862825
Participation Certificate
AYUSH:
9773783828
PALAK:
9643862825