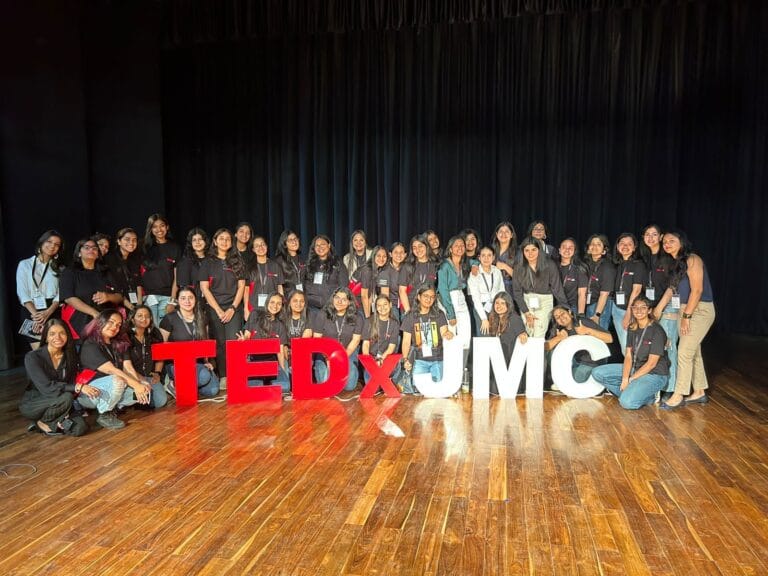 The proverb "Do not give up, wonderful things develop gradually" holds true even in the midst of a pandemic, as demonstrated by TEDxJMC. For the past two years, the organization has proactively hosted virtual conferences, and this year, they returned offline with the same energy and enthusiasm. On April 8, 2023, at the Jesus & Mary College, University of Delhi, TEDxJMC presented a lineup of captivating personalities, including seven eloquent speakers and three charismatic performers who left a lasting impression.
TEDxJMC's theme this year was "PEHCHAAN: Look Within," inspired by Lauren K. Hamilton's quote "The only true happiness lies in knowing who you are." The goal was to examine our inner selves, define who we are, and assess how our inner selves compare to our ideal selves. This year's theme focused on self-reflection, introspection, and self-actualization.
Several outstanding and inspirational speakers graced the stage at TEDxJMC, including Guntas Sethi, a Le Cordon Bleu patisserie chef and EU food ambassador in India, and Tuheena Raj, a luminary writer and founder of a strong online writing community. Mahir Malhortra, founder of Cling-E and popular Instagram personality, brought some humor and fun to the stage, while Mehak Dhawan, an ardent food blogger, shared her experiences in reviewing food from cafes and fine dining establishments. Lastly, Dr. Jaishree Sharad, a reputable and eminent professional in the field of cosmetic dermatology, shared her expertise and experience.
The conference was further elevated by the remarkable performances of Zinnia Chaturvedi, a soulful singer, MixDup band, whose dance performances uplifted the mood of the audience, and Ashwin Thomas, whose acoustically captivating performance concluded the conference.
Overall, the conference was a tremendous success, achieving its goal of inspiring people with heartwarming anecdotes, visualizing the trajectory of pursuit, and uplifting the audience with soulful performances.
Follow TEDxJMC on:
https://www.tedxjmc.com/ 
https://www.facebook.com/tedxjmc 
https://www.instagram.com/tedxjmc