Trash To Treasure ( Waste Art Competition)
Trash To Treasure ( Waste Art Competition)
Deen Dayal Upadhyaya College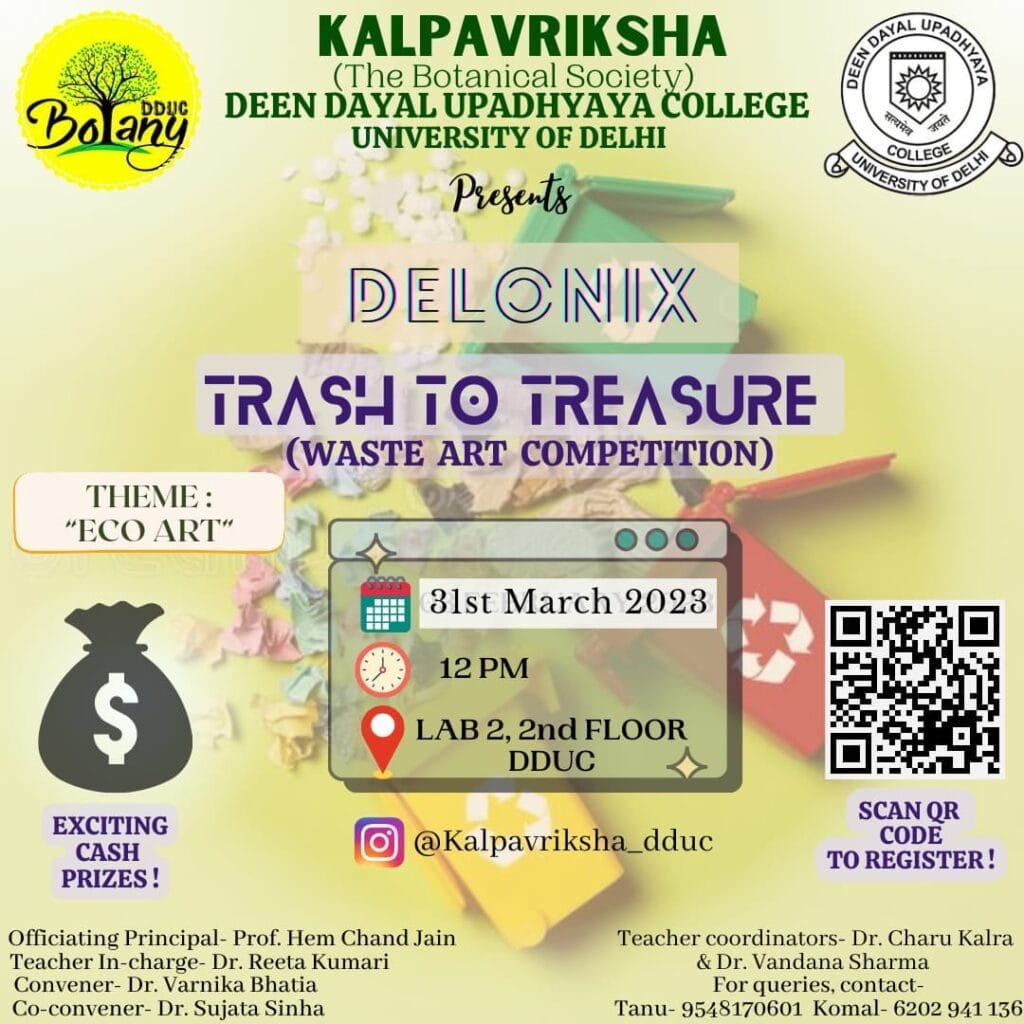 "Creativity is making marvelous out of the discarded!"🌸✨
Hola peeps! 💐
Hope you guys are doing well!
KALPAVRIKSHA- 🌳The Botanical society🌳of Deen Dayal Upadhyaya College, University of Delhi is back with its annual fest *DELONIX* with a plethora of competitions. One such competition is *TRASH TO TREASURE- A Waste Art Competition!*
*THEME- GREEN DREAM*
🗓️Date- 31st March, 2023
⏱️Time- 12 PM 
📍Venue- Lab 2, 2nd floor 
💥 Exciting cash prizes !🫠🤩
RULES/ GUIDELINES
☞ Solo participation and Team of 2 is allowed. 
☞ Participants will be given 1 hour & 30 min. to show their creativity . 
☞ The required waste material should be brought by the participants.
☞ The material would be rejected if not found to be waste product. 
☞ Participants will be judged on the basis of their artistic composition, eco-friendly rating and creativity & design.
☞The decision of the judges will be considered final and abiding. 
☞Plagiarism is totally prohibited.
🔖 Certificate of participation will be provided to each participant!
REGISTRATION LINK🖇️
⚜️Convener- Dr. Varnika Bhatia
⚜️ Co-convener- Dr. Sujata Sinha
For any queries, contact:
Tanu- 9548170601
Komal- 6202941 136
Regards🍁 
Kalpavriksha, DDUC
Participation Certificate