Lady Shri Ram College for Women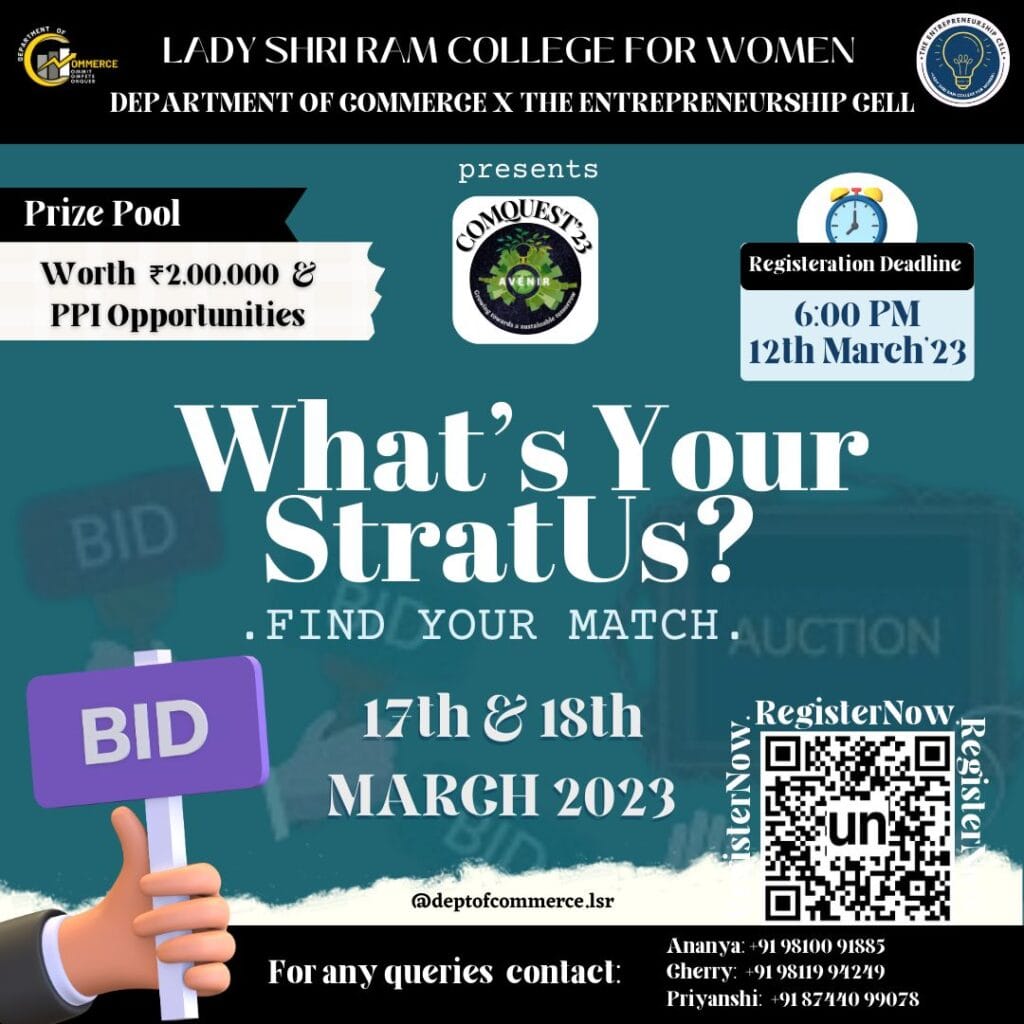 They say 'knowledge is power' but what if you're stepping into the unknown, daring to swim in unchartered waters? Do you think you're up for the challenge? If yes, then 'What's Your StratUs?' is the perfect place to showcase your intellect and fervor. An amalgamation of stimulating and diverse rounds, this two-day event will test more than your tenacity. Strategy and crisis are the two pillars and constants of any business endeavor, the ability to resolve situations and emerge victorious is the mark of a great player. Innovation is the by-product of the power of your profound imagination, but what if that boundless vision is suddenly restricted? Will you still be able to perform under confining limitations of resources, practicality, and maybe money? We know one thing for sure, there is never going to be a dull moment in this maze of competition. So, put your pragmatic approach and negotiation skills to the test and ride the wave to excellence! Rounds-
The Uptown Move
An online quiz where participants have to answer 20 questions in 25 minutes. Teams' accuracy and time management skills will make or break their qualification for the subsequent rounds! You will see the "Play" button here, once the round is live.
Start Date: 
12 Mar 23, 07:00 PM IST
End Date: 
12 Mar 23, 09:00 PM IST
Overthrow the Status Quo (On-Campus Round)
Divided into two parts, this round will require the qualifying teams to participate in an auction round followed by a presentation battle. Presence of mind, strategic planning and communication are the building blocks of any undefeated champion. Do you have what it takes?
Start Date: 
17 Mar 23, 09:00 AM IST
End Date: 
17 Mar 23, 06:00 PM IST
Tackle the Hassle (On-Campus Round)
Further shortlisted teams will be presented with disrupting and mind-boggling crisis statements. The originality, practicality and logic behind the solution will ultimately decide the winner of all. Fierce competition and lack of resources might just drive you to the brink, but perseverance can trump the biggest setbacks.
Start Date: 
18 Mar 23, 09:00 AM IST
End Date: 
18 Mar 23, 06:00 PM IST
Winner- Rs. 5,000
First Runner Up - Rs. 3,000
Second Runner Up- Rs. 2,000
Participation Certificate
Ananya Choudhary
+919810091885 Cherry Nangia
+919811994249