Publish your awesome content on
Eve Explore
Keep scrolling up! Find articles, creative writings, art pieces, amazing clicks and what not!
Fumbling down a broken road,
hunting down the trails left in the dark
Touching every drizzle drops,
splitting like light in the dark.
Caressed by the ghost of the haunting past,
I lay down chiseling my wishbone
Exceptional I thought is my reckless heart,
as I write so cruel for my notions.
A fever in my veins runs down my crude blood
like a diabolic potion
A disease that's never there, walking my spine leaving crumbs behind..
Exacerbating like a syndemic cyclone,
wrecking the beautiful designs (of my beautiful mind)
In ruin, it lies; breaking into crude pieces
slitting my psyche into love
Sad enough to skip a beat, sad enough to skip a piece even if it freezes my infectious heart
That very beat of my heart turned into a metaphor,
while the very pieces slitting like green glass
And a mind partially stuck like a fleshy morsel in it's fishing barb
Wandering peacefully in the dread of the foggy spectres and the burdened spirits, summoned from my past.
Witnessing the spirits yeilding fireballs of snow,
Chasing the tale of broken space with a cold breath of warmth
I hold myself walking through the streets while the orb is raining spikes
while I notice none a black cloud,..
I align with my past for the last time,
and cover it up with a hefty shroud
In peace it lays, riveting, the chime
It evaporates in the desiccate present and let rain the black clouds.
Whenever you hear about entrepreneur, Freedom, Courage and passion are the terms that comes to your mind to start your own business, you can get inspired by a lot of things. maybe you are passionate about something and its your dream since your childhood. Maybe you don't want to work under someone and wish to be your own boss or you got inspired by our Prime Minister's words and wish to open your fritter's shop. Reason could be anything, I will tell you everything from the start to end that you need to know to start your own business in this article and to become an entrepreneur in India. Let's see.
The first step to start your business or start up is that you must know what exactly do you wish to do. What's your idea? There are two reasons for this, first is that there's a very less chance of thinking of such idea which no one has ever thought about and the second and most important reason why you shouldn't do this is that to start a business where there is no customer base established, no source of revenue and no one has done the trial and error then it's a very new thing and a very risky work so its not recommended to think of an idea which no one has ever thought of. In fact you have to think that what do you yourself like to do.
STEP-1 IDEA AND PLANNING
Your interest and passion play a very important role as you would do what you like to. How can you give value to people from your work and how can you benefit people and give value that they will give you money in return. When these two things are clear, you can see which business already exists which coincides with these two things. Then study what kind of such businesses are already in the market and how do they run, call and ask them about their business and study their business model. Next step after this is to create a business plan. Suppose if you are starting your business from tomorrow, then prepare the budget report of full one year from tomorrow to the year end. That how much money will you need to start the business, how much capital and investment will be required and in the whole year how much will be the expenses and what will be the profit that you will gain and where you will get the required capital and money that you will need? Will you borrow from your friends, ask your family or approach bank for loan. Try to start the business where you don't need to take a loan from the bank or any third person. Start a business where your family is able to afford the initial investments. Once your business is established then you can think of taking loan to move it to the next step. Make the business plan as detailed as possible so that the investors will get convinced that this business will surely work and if we invest in this then we won't incur any loss and will gain only profit from the business.
STEP-2 REGISTER YOUR BUSINESS
Now that you have made your one year business plan then we can on to the next step. Next step is to register your business with the Government. According to the type of your business there are different ways to register it. The first, the oldest and the easiest way to register your business is "sole proprietorship" where the business owner is you. And profit or loss of business will be your own profit or loss an you are personally liable and the government regulations are the minimum. It can be done through MSME website. You can apply for proprietorship only if if your company is a small scale not more than no of employees prescribed. There are different ways for registering. You can register it as One person company, private company, public company etc.
STEP-3 TAX REGISTRATIONS
Next step is to do the tax registration in which GST REGISTRATION is at first if turnover is more than 20lacs. IMPORT EXPORT CODE REGISTRATION, PROFESSIONAL TAX and MSME RGISTRATION are some important things to get the company registered into if its applicable on it.
STEP-4 YEARLY COMPLIANCES
There are few things which a business has to do every year. It is yearly mandatory compliances, the first thing is income tax return, every business has to file income tax return at the end of the year. Second thing is Accounting and finance which is most important thing to look with care. If you are registered for GST then you have to file GST, it has monthly or quarterly compliance. If you are a OPC, LLP or PVT LTD. Co then you have to look into secretarial compliance. Statutory audit is necessary if you turnover is more than 40lacs.
FEW TIPS FOR SUCCESSFUL BUSINESS
1) Think how can you give value?
2) Only do what you are passionate about!
3) Do only environmentally sustainable business.
4) Think of making a positive impact on world!
Follow the writer on LinkedIn (Click Here)
Peace has, for the longest time, been pigeonholed as a state which establishes tranquility and freedom from dismal disruptions. It is vividly seen that peace is the craving of every human heart. Every individual is a part of the race to achieve and attain peace and remain at sanity in the prevalent conflicts of the world.
However, when looked from a deep perspective, it is poignantly reflected that peace can be a contributor to utter devastation, at the same time, being the reason of stagnation for a nation and the world, as a whole.
A nation is highly supported by its armed forces, navy and airforce. In the presence of peace, the military-industrial complex is likely to get dampened. It is crucial to understand that military expenditure has, since time immemorial, been a useful tool to improve and increase public spending, thereby helping the economy to grow at times of grave recessions. Therefore, peace will eventually lead to the fall out of the ammunition industry to a huge extent, bringing down the defence budgets to zero. Hence, all military-run economies shall come to a halt.
Don't you feel past conflicts and contingencies have made all of us more aware and understanding of the upcoming uncertainties and challenging times? Don't you believe that wars fought in the ancient times are the reasons for the inherent nationalism and sense of belongingness to our State? Have you never glorified the great Chandragupta Maurya or King Ashoka? The answer to all these questions is a big YES.
Wars have had extremely miraculous and wonderful effects on the world since ages.
The technology used in a nation gets sped up due to outbreak of wars. The parties to a war indulge in extensive research to produce exquisitely advanced weapons and ammunitions in order to win the battle. This means that due to wars, technological advancement would take place at a disproportionately high pace which will benefit future generations as well.
Wars bring out the brave from the mob. It gives a direction to the courageous ones and provides them a path to establish themselves as heroes.
As we're well aware that it was war that brought an end to the evil Fascism dictatorship in Europe, it was war that heavily challenged British Rule in India, it was war that largely helped people regain their estate and live with the same standards. Did peace or even the thought of peace even one percent have a sudden impact ever? Let's ponder!
Peace, although seems to be a quiet, sensitive and worth longing for phenomenon, it has dire consequences. Peace ceases the progress of a nation. The economic structure and social framework along with civilization gets heavily dismantled.
Thereby, it is on us to comprehend that peace can never be a reason for an individual, organization, society or nation to outshine others. Instead, it is wars and battle that can help us do that and make a mark in the world and bring about a revolutionary impact and change in this world.
Follow the writer on Instagram (Click Here)
Happily, I happily cherished the fact
I loved being the protagonist of the act
An act people like me follow
Or rather undeniably swallow
To take care of everybody else
Family, friends, and more friends or spouses
Apologies for the reality check my dear soul
It's the only way to learn
Learn that it's not just everyone
It's you too
Even if you care so much
Don't let the one go unseen in the everyone
Because that one is you and you
It's okay to be this much caring
It's okay to also be not caring
Be who you want to be
Just don't drown yourself too much in this
That you only forget who you are
It doesn't matter how much you do for others
It matters what you do for yourself
Selfless doesn't mean you can't be selfish
Selfish doesn't mean you are not selfless
These notions are just to label you
If you are making someone's life easy
Then think about yours too
If you are upset about someone's problem
Then be happy that you don't have one
It is a foolish thought
Of not caring about yourself
It is not divine either
To just care about others
It's human nature to please others
In the process we gain something
And lose ourselves in the middle
The concern here is not what we do for others
It's that is it worth the price we pay?
At the cost of our self respect
We please our lovers or spouses
At the cost of our love
We agree to our families
At the cost of our career
We give the position to our friends
Ask a little question
Is it worth it?
Is it worth YOU?
When we say our destiny is not with us
It's simply because you give it to them
To them, to your family, to your friends and everyone else
But you, why not you?
Open the book of your life
Write a chapter for yourself
You are not being only about yourself
Everybody will be there with you
When you are there with yourself
It's the ultimate truth
Only you will be there for you
Take a note of this everyday
Be it a sunday or a monday
Give yourself some credit
Along with everybody else
Stand with yourself today and everyday
People might not tell you this
On behalf of everyone
I write to you my dear soul
Let there be light in your life
Shinning everyone's life is not your job pal
You are needed for you too
Keep this with you
Because it is for you!
Colours of Arts by Harshita Arora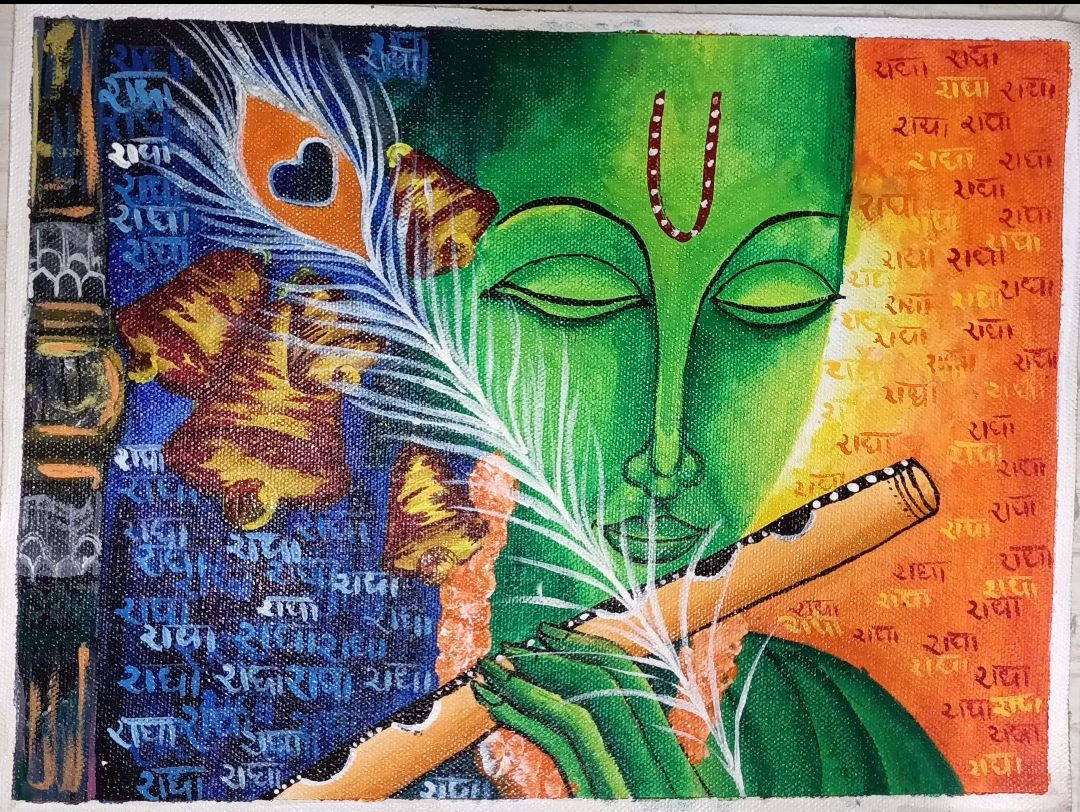 In the majestic land of Bhutan,
Is where I met you, my sweet Orangutan..
Old man of the forests,
Are you ready for an adventure outside Borneo and Sumatra?
Don't worry; life outside the Jungle is far better,
We can jive to good music and granny can sew you a cool sweater!!
Let's go for movie and have a cup of hot chocolate coffee,
I hope your teeth won't be spoilt by having some toffees.
My furry tangerine pal,
Have you colored your hair, on an attempt to look fair?
I wonder how you age so fine,
And put the craze in the air.
Dear tangerine Grandpa,
My mum told me, you are an ape,
Would you like to have some apples, bananas or grapes?
I will go to the party,
Will you come with me?
As you are so old, I will give you a cup of tea.
Sweet Grandpapa,
Let's go visit, your friends in the city zoo,
Behave properly, better not boo-boo.
See there! I saw some creatures like you.
They are Chimpanzees, Gibbons, Gorillas and Silver backs.
And guess I spotted your entire clan !
Your family looks oh so royal, grey and old,
And their smile is brighter than any gold.
Look Grandpaps! they are giving you a flying kiss,
I know you'll like to stay longer,
But forgot our movie plan at six?
I'm sure that they really like you,
And why not? You're precious than any Jewel
Now do not roam,
It's time to go home.
Stock some daisies, let's head home
All are your fans,
My sweet Orangutan, I adore you, my superman!
Life is so strange
Nothing stays the same
Everything change
But who to blame
Life is like a game
Where you have to lose
Before you can gain
To win you have to face the fearful rain
In Life.. They always say
Don't use your heart
Only use your brain
In life there is love
But the more is hate
No one decide
They all hesitate
And who knows the fate
The closest people you need go away
When you need them the most
You find them lost
Day after day
Days go by
People are born.. and other die
Year after year
No one understands
Nothing is clear
Nothing in our hearts except fear
Today you walk & talk
Tomorrow you lay in your grave
And nothing it gave
The money that you save
And no use of your gold
When it won't be sold
You have to be strong
Stop doing the wrong
And never lie
Be ready for your last goodbye
Doodle Art by Vaibhav Mangal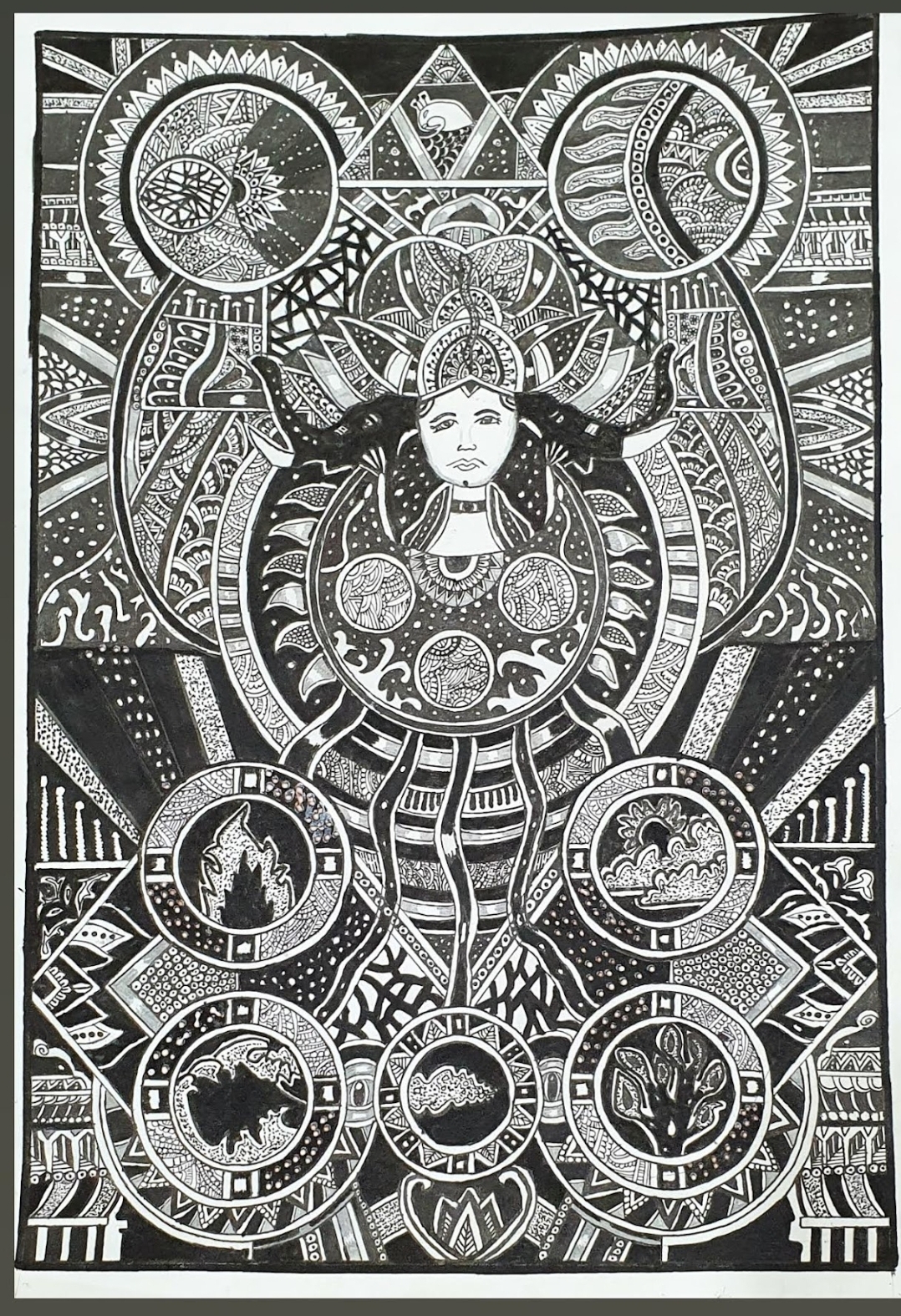 Kuch toh tha tere mere bich
Vo Tera mujhko dekhna
Mera tujhko dekh ke muskurana
Phir muskura ke palke jhukana
Yuu hi toh nahi tha tujhse is tarah sharmana
Naraz ho kar tujhi se Mere dil ka phir tujhi me pura din kho Jana
Ek msg ke intezar me vo mera mere phn ko din bhar niharna
Yuu hi toh nahi tha mera tujhe iss kadar chahna
Meri ghar ki galiyon se guzarna tera
Phir tujhe ek nazar dekhne ko bhag kar bahr ana mera
Yuu hi toh nahi tha tujhe dekhne ko tadapna mera
Aankhe band Karu toh chehra tera
Ankhe kholu toh khayal tera
Phir tere bare me kuch soch kar yuu hi has jana mera
Yuu hi toh nahi tha mere khayalo me har pal ana tera
Kuch toh tha tere mere bich
Bas mushkil tha samajhna tera